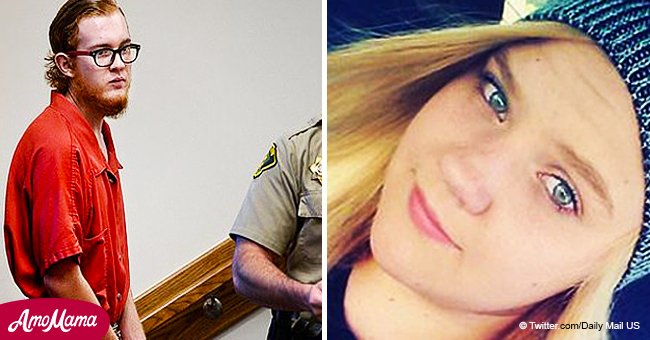 Man who filmed teen taking her own life sentenced to at least five years and up to life in jail
A man who was instrumental in the death by suicide of a 16-year-old girl has accepted a plea deal that guarantees a minimum sentence of five years imprisonment.
A 19-year-old Utah man pled guilty to child abuse homicide as part of a plea deal with the Spanish Fork prosecutors office, reported Deseret News.com on December 7, 2018.
Tyerell Przybycien had been charged with murder, witness tampering and failing to report a dead body, and would have faced a minimum of 15 years in prison if convicted.
"The thing is ... I wanna help kill them. It will be awesome. Seriously I'm going to help her. It's like getting away with murder! I'm seriously not joking."
Tyerell Przybycien, Deseret News.com, December 7, 2018.
ENCOURAGING A YOUNG GIRL TO SUICIDE
Prosecutors asserted that Przybycien had encouraged and helped 16-year-old Jchandra Brown kill herself in May 2017.
Przybycien purchased and gave the young girl the rope she used to commit suicide and even tied the noose for her. Przybycien told a friend that getting Brown to kill herself would be "awesome" and like "getting away with murder."
Przybycien has also attributed a lesser prison term of up to five years for attempting to exploit a minor after investigators found child pornography on his phone.
PRZYBYCIEN FILMED BROWN'S DEATH
Przybycien drove Brown to a remote canyon and filmed her with a cell phone as she placed the noose around her neck and hanged herself. He filmed her death throes for 10 minutes, then placed the phone at her feet commenting: "I guess I'll leave this here".
PROSECUTION DESCRIBED PRZYBYCIEN AS A "PSYCHOPATH"
Utah County prosecutor Chad Grunander described as Przybycien as a psychopath who preyed on a depressed and vulnerable young girl and encouraged her suicidal thoughts instead of helping her.
Przybycien showed no emotion when the judge sentenced him to five years in prison and up to life for his part in Jchandra Brown's death.
Przybycien has also attributed a lesser prison term of up to five years for attempting to exploit a minor after investigators found child pornography on his phone. The judge allowed the terms to run at the same time.
Grunander believes that Przybycien is likely to re-offend and said:
"These are the types of people for whom prisons were built."
Read more on Twitter Amomama USA.
A NEW HAMPSHIRE MAN IS CHARGED WITH HELPING HIS FRIEND COMMIT SUICIDE
A New Hampshire teenager has been arrested and charged with helping his 19-year-old roommate kill himself.
Parker Hogan, also 19, allegedly brought Michael Buskey a gun, a notebook, and a pen so he could compose his suicide note.
Hogan then taught Buskey how to hold the gun to his temple correctly and how to pull the trigger. He then left the suicidal young man alone with the gun and waited in the nearby woods for the sound of the gunshot. He went back to check if Buskey was dead, and took the gun and the suicide note from the scene.
Hogan will face charges of causing a person's death and falsifying evidence. Although the specifics are unknown, Buskey had been arrested before his suicide for alleged witness tampering and assault.
Hogan was released from Police custody after posting bail. He is awaiting his next court date.
In a related story, a middle school teacher was found alone and unconscious in his classroom and it is believed that he was attempting to take his own life.
Please fill in your e-mail so we can share with you our top stories!