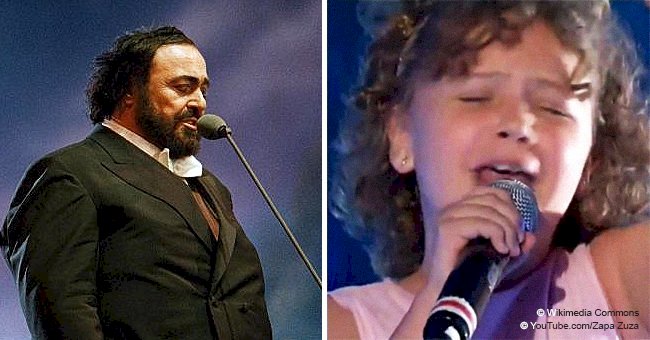 Luciano Pavarotti's granddaughter dazzles the audience with her angelic voice

María Cristina Craciun is an 11-year-old opera singer with a powerful voice
From her first presentation, she has distinguished herself as one of the most prodigious voices of the contest, not only because she is the granddaughter of the best tenor in history,
Although we are often unable to understand the musical language of a song, we can still feel its emotion. Maria's story begins in 2011 when she took part in a program of young talents on Italian television.
Read more on our Twitter account @amomama_usa.
Maria had a rare talent. After appearing on television and social media, the video went viral and María Cristina Craciun was catapulted to success.
She lives in Romania and chose to sing "Caruso", one of Pavarotti's most beloved songs, which made her performance much more moving.
The late singer, Luciano Pavarotti, died back in 2007. If he was alive, he would be surprised at how talented she was.
As if she were an adult, the girl enters the stage and takes up the interpretation of this song composed by Italian singer-songwriter Lucio Dalla in 1986.
Tears and emotion become the protagonists of the presentation of this girl who is applauded standing alongside the audience attending the show.
She also appeared in the news and there are those who claimed that she was an unacknowledged granddaughter of the great Luciano Pavarotti.
The singer, unfortunately, could never see her sing, but in any case, the talent is undeniable and puts the emotions to the surface.
We can't deny that the girl brings talent in her veins and has a very promising future in this area. We hope she will follow in her grandfather's footsteps because it will give her a wonderful future.
Many people criticized this presentation widely, because they considered it inappropriate for a girl of her age to push her voice to those limits.
Others devoted themselves to praising her talent since it is undeniable and they predicted a great future as a lyric singer.
The talent of the children always manages to surprise and move us, as well as the story of this talented girl who dazzled the judges of the show "Britain's Got Talent" with an incredible sample of karate.
Jesse Jane McParland showed flawless martial arts routine that included handling a sword, jumps, kicks, and somersaults. She received well-deserved applause from the public.
Please fill in your e-mail so we can share with you our top stories!