Black mother cries & begs for help as NYPD 'wrestle' her baby away in troubling video
A heartbreaking video clip shows a child trying to be ripped away from his mother's arms by a group of NYPD officers at a Brooklyn Food Assistance Center, and it has since then gone viral. Now, people on the internet are asking for justice for the mom and her son, who were both clearly being abused by the authorities. 
The shocking footage of the scene was posted by an onlooker on Facebook, and shows a young mother, later on identified as 23-year-old Jazmine Headley, sitting on the floor of a SNAP center in Boerum Hill, Brooklyn, when a uniformed officer attempts to grab her son away from her arms, even dragging her across the room just to pry him out of her arms. Other officers soon after joined in, trying to separate the mother and son. 
People who were in the area tried to tell the officers to calm down, especially since there's a child in her arms. Random people could be heard screaming in the video, saying:
"Oh my god, oh my god, look what they're doing to us, look what they're doing to her!"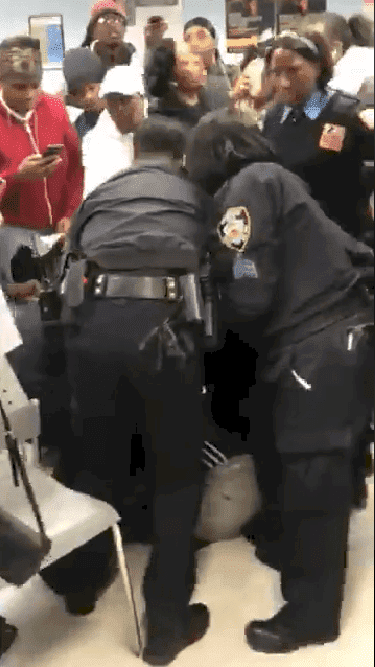 "There's a [expletive] baby in her hands!"
There are 3 NYPD officers and a sgt. shown ripping a baby out of the hands of a mother in an ACS office. This was the best plan they could come up with? No threat to anyone, no emergency, just brutal disregard for the well-being of mother and child. https://t.co/E7KsGCi6hU

— Alex Vitale (@avitale) December 9, 2018
At one point in the video, the mother could be seen saying "I'm begging you please", as she lay flat on the ground. After people tried to help the mother, an officer points what appeared to be a taser at the opposing crowd, while waiting for more cops to arrive. 
Monae Sinclair, the person who posted the video on Facebook, cleared out what happened and said that the mother sat on the floor as there were no chairs left, and she was confronted by a security guard.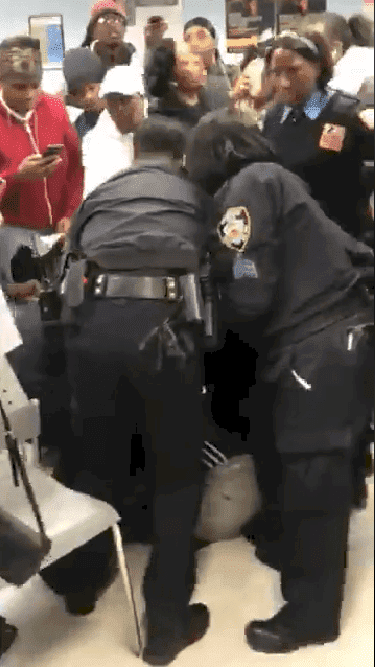 "[The mom] made the security guard feel dumb so she called the cops on her and this was the outcome. She had her baby in her hands the whole time. I'm so [expletive] disgusted with the NYPD."
This is unacceptable, appalling and heart breaking.

I'd like to understand what transpired and how these officers or the NYPD justifies this.

It's hard to watch this video. https://t.co/5TPN03fHU6

— Corey Johnson (@CoreyinNYC) December 9, 2018
After outrage poured over the video, City Council Speaker Corey Johnson called for an investigation of what happened, calling it "unacceptable, appalling, and heartbreaking". 
Even the NYPD ensured the public that they were investigating the incident, saying that cops were called to the center at 1pm on a Friday, after the Human Resources Administration says that they were not able to kick out a person who was being "disruptive" and blocking a hallway. 
When officers got to the center and ordered Headley to leave and she didn't, that's when chaos broke out. 
After everything, the woman was charged with resisting arrest, acting in a manner injurious to a child, obstructing government administration, and criminal trespassing.