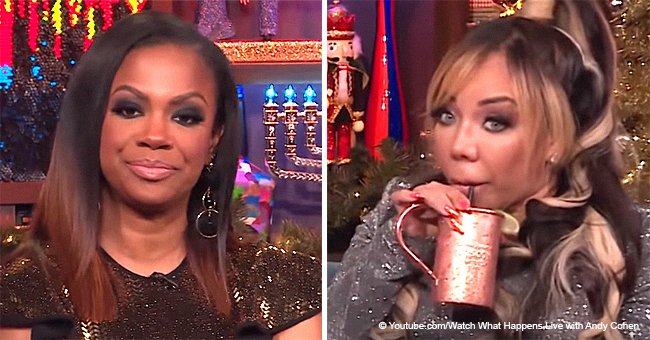 Kandi Burruss responds to question asking if she ever 'hooked up' with Tiny amid bisexual rumors
Kandi Burruss and longtime friend Tiny Harris recently answered the question of a fan who wanted to know if they have ever "hooked up." Burruss has openly admitted she had dipped in the "lady pond" before, but she's now happily married with Todd Tucker.
The rumors about Kandi Burruss' sexuality have been chasing her for years now, and people won't let it die down.
On a recent visit the "Real Housewives of Atlanta" star did to Andy Cohen's "Watch What Happens Live," alongside fellow Xscape member Tiny Harris, a fan called in to ask the women if they had ever hooked up, considering both of them had faced lesbian and bisexual rumors before.
"Hell no!" Kandi answered. And Tiny added, "Oh no!" quickly dismissing the possibility.
Then, Harris went on to explain that she would have never thought Burruss could be interested in women because, back in their teenage years touring with the group, Harris loved to cuddle with the girls on planes, and Kandi would always usher her away.
"She would be like, 'Get off me! Get off me!' I never even thought she liked women. She would never let you touch her," Harris stated.
"SHE'S FAMILY"
Kandi, who once confessed in "RHOA" she made a threesome once and had her fair share of experiences with girls, added:
"Everybody has an experience or two, and you don't necessarily go around telling everybody because now I've been branded the 'lesbian of the show.' And it's just like, just because people have an experience or a couple of experiences, that doesn't determine what they're into all of their life."
And to make things even more clear, Kandi added that she and Tiny are like sisters, and she would never "do" her.
KANDI'S LESBIAN RUMORS
Last year, on the ninth season of "Real Housewives of Atlanta," Marlo Hampton surprised the rest of the girls by asking Burruss straight on "Are you a lesbian" on their glamping trip. According to Hampton, some girls, which turned out to be Porsha Williams and Phaedra Parks, had been spreading rumors about Kandi's sexuality.
The Kandi Koated owner denied the accusations, adding "I truly love my husband, and I truly love his d—, okay? I'm very much married and happy with my man."
However, after a back and forth with Williams, Kandi admitted:
"As far as like women situation, if you really want to know — yes I have tried it. But believe me — I'm not the only one at this table who has. I've never done anything more than [Williams] has done. Let's be clear on that."
Porsha, Burruss later revealed, had initiated a kiss off-camera with Kandi in 2016.
Both women had a rocky relationship for most of the last season of the show, but it seems like they're finally on good terms now that Williams apologized to Burruss. Porsha is currently expecting her first child, and Kandi is still happily married.
Please fill in your e-mail so we can share with you our top stories!