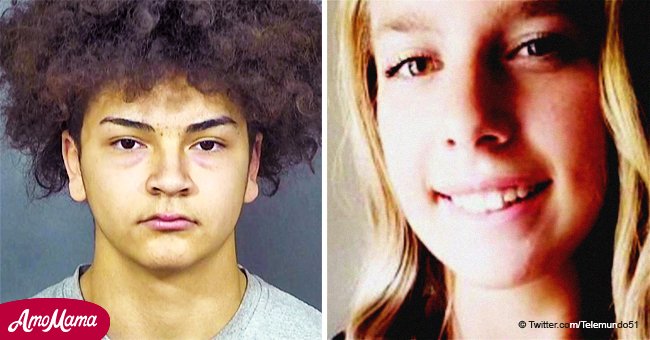 Teen who reportedly confessed to killing pregnant girlfriend pleads not guilty
A teenager who is being charged as an adult, entered a not guilty plea for the murder of his pregnant girlfriend.
Breana Rouhselang's sweet dreams of attending her high school prom will never come true. The seventeen-year-old was found dead in a dumpster behind a pizza restaurant, stabbed to death by one of her classmates.
Her alleged killer is Aaron Trejo, a sixteen-year-old Indiana high school football player, and the father of her unborn baby. Trejo had confessed his guilt to the Police, but he entered a not guilty plea at his arraignment in front of a St. Joseph County judge on December 12, 2018, reported South Bend Tribune.
"I took action... I took her life."
Aaron Trejo, South Bend Tribune, December 12, 2018.
A PREGNANT CHEERLEADER MURDERED BY A FOOTBALL PLAYER
Trejo had allegedly told investigators that he had been thinking about killing Rouhselang for a week before agreeing to meet her on the night of December 8.
The two arranged to meet behind a pizza restaurant, where Trejo stabbed Rouhselang multiple times through the heart and strangled her with her own scarf.
According to a Supreme Court ruling, the state prosecutor cannot ask for the death penalty for a crime Trejo committed before he is 18.
A MOTIVE FOR MURDER MOST FOUL
Trejo admitted to investigators that the motive for the murder had been Rouhselang. The cheerleader had been 6 months pregnant at the time of her death, and Trejo claimed she'd hidden her condition from him until it was too late for an abortion.
TREJO GOT RID OF THE MURDER WEAPON
Once Rouhselang was dead, Trejo placed a trash bag over her head and torso and dumped her body in the dumpster behind the pizzeria, less than a block from her house. He then threw her cell phone and the knife he had brought from his home into the nearby river.
JUDGE DENIED TREJO BAIL
Trejo appeared before the judge via video conference, and despite his age, he is being charged as an adult. The teenager was denied bail, and his next court date was set for December 19, when he will appear before Superior Court Judge Elizabeth Hurley.
Trejo's age will, nonetheless, provide him with some protection. According to a Supreme Court ruling, the state prosecutor cannot ask for the death penalty for a crime Trejo committed before he is 18.
Rouhselang's grieving family and friends will be commemorating her life, with a series of memorial events culminating in her funeral on December 17, 2018.
Read more on Twitter Amomama USA.
NEW YORK YOUTH PLED GUILTY TO MANSLAUGHTER
A New York teenager was sentenced from two to six years in a state prison for the shooting and killing of his 18-year-old-girlfriend.
Jermaine Brown pleaded guilty to manslaughter in the death of Ciara Grimes, whom he shot inside her home. According to investigators, Brown moved Grime's body to the driveway after the murder and abandoned her there.
Brown and Grimes had had a relationship which her family described as tainted by domestic violence. Just four days before the shooting, Grimes had filed a no-contact order of protection against Brown. Too little, too late; and the same can be said for the prison sentence.
Brown's manslaughter sentence will run concurrently with a sentence of three years in prison and two years post-release for a separate conviction on a third-degree criminal possession of a controlled substance charge.
Jermaine Brown will probably be free in two or three years, Ciara Brown got a death sentence.
In a similar story, a newly-engaged Washington woman was stabbed multiple times while out jogging and sought refuge in a Chinese.
Please fill in your e-mail so we can share with you our top stories!