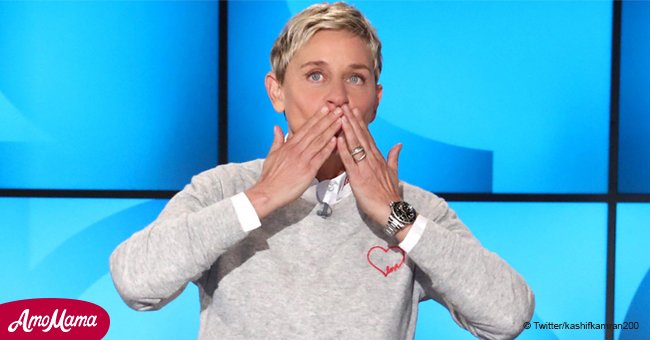 Ellen DeGeneres considers ending her talk show, but brother says the country needs her voice

Ellen DeGeneres is divided between her desire to make a change in her life, and her brother's belief that America needs her.
Ellen DeGeneres is one of the most successful talk show hosts of all time, and one of the most influential people in America.
The actress and stand-up comedian who has over 76 million followers on Twitter alone, had been considering retiring from the hit show she has been hosting since 2003, but her brother, Vance DeGeneres, disagreed.
" There's been times someone wants a picture, and while I'm doing a selfie, they're like: 'You're not dancing !,' Of course I'm not dancing. I'm walking down the street."
Ellen DeGeneres, New York Times, December 12, 2018.
ELLEN IS TIRED OF DANCING TO THE SAME OLD TUNE
DeGeneres, who is now 60, made it a trademark to start every show dancing with a member of her audience. Now she is pursued by the image of the "dancing Ellen" as strangers berate on the street for "not dancing."
The talk show host that has made TV history by winning 25 Emmys, wanted to liberate herself from that image, and take on some new challenges, including a return to stand-up comedy.
DeGeneres is about to return to her roots, with her first comedy special in 15 years
ELLEN'S BROTHER WON'T LET HER QUIT
DeGeneres' brother Vance, also a comedian, is set against her retirement from the show. Vance maintains that DeGeneres' show offers Americans a safe haven of positivity and gentle humor in a dark and troubled moment.
As an inspirational talk show host, she follows in the gigantic footsteps of the legendary Ophra Winfrey, and after her retirement, DeGeneres became the most influential and trusted woman on TV.
ELLEN'S RETURN TO COMEDY
DeGeneres is about to return to her roots, with her first comedy special in 15 years, "Relatable," which will be streaming on Netflix on December 18, 2018.
The special presents a sharper image of the classical Ellen Degeneres comedy act. It introduces audiences to her more mature and acerbic wit, far from the chronic optimism of "The Ellen DeGeneres Show."
AMERICA'S FAVORITE DAYTIME HOST
In DeGeneres' long and brilliant career, she has always been someone the public could relate to as a "nice" and trustworthy person, It is this perception that now plagues the star of "Finding Nemo."
Ellen DeGeneres is determined to dive back into the edgy world of stand-up comedy, but hopefully, she will be able to conjugate it with her work on "The Ellen DeGeneres Show." Her brother Vance is right. America can't do without her.
WHY ELLEN MISSED STAND-UP COMEDY
Ellen DeGeneres opened up to Jimmy Kimmel about her new Netflix comedy special, "Relatable."
This is DeGeneres' return to her first love, and a comedy genre she said she'd be glad to give up after 20 years of constant touring:
"I was done with it, you know? I did it for like 20 years. I used to joke, when I was touring, 'Someday, you'll all come to me.' And now they do. So I just stopped going out."
DeGeneres became the most successful daytime talk show host on TV, but 16 years later she discovered she missed the edgy excitement of facing a live audience and ad-libbing to their repartee.
"It had been 15 years and I decided I miss it and [thought] it would be a challenge to do another one, and I just decided to start writing. And I'm really happy with it."
"Relatable," which has been described as "classic Ellen" with a cutting edge of reality, will be streaming on Netflix on December 18, 2018.
Please fill in your e-mail so we can share with you our top stories!