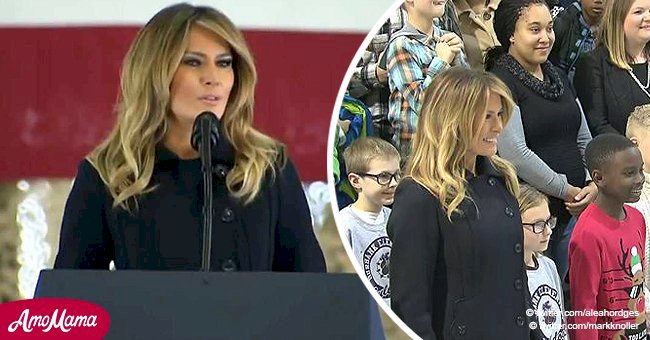 Melania Trump thanks troops, exchanging high-fives with happy kids in chic wool jacket
The First Lady of the United States of America, Melania Trump, recently delivered a speech to members of the military at Joint Base Langley-Eustis, during which she expressed her gratitude for their service.
The Joint Base Langley-Eustis is over a century old and was a home for soldiers during times of war and natural disasters.
The first fighter wing gave her a tour of the F-22 Raptor, which is the country's most advanced air-to-air fighter.
Read more on our Twitter @amomama_usa.
MILITARY TOUR
The Deputy Secretary of Defense, Patrick M Shanahan, joined Melania when she visited the Joint Base Langley-Eustis.
The First Lady plans to expand her military visit by going to the USS George H.W. Bush to meet with sailors in the navy.
In her speech Melania said:
"I also learned that the airmen and soldiers in this room, helped set up after national disasters like Hurricane Michael and that many of you have recently returned home from deployment. I am honored to be able to say, welcome home."
Melania dazzled the crowd in an all-black ensemble, consisting of boots, long pants, and a button up wool jacket.
CHRISTMAS SPIRIT
Melania not only spread Christmas cheer by visiting the troops, but also by inviting Laura Bush to the White House after the holiday decorations had been put up.
Laura's father-in-law, former president George H.W. Bush, recently passed away. Melania's invite was a kind gesture at such a sensitive and challenging time for the Bush family.
While at the White House Laura viewed her late father-in-law's portrait and took a photograph in front of it with her family.
After the tour of the White House and its Christmas decorations, Melania Trump and her husband, President Donald Trump, met up with Laura Bush and former president George W Bush at Blair House.
Please fill in your e-mail so we can share with you our top stories!