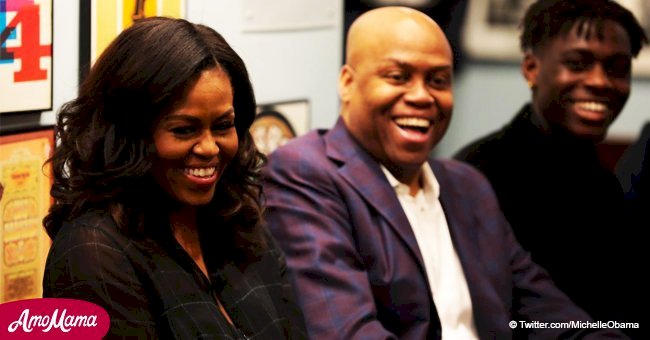 Michelle Obama genuinely amazes students at the Motown Museum while on her tour book
Michelle Obama surprised a group of male students from Wayne State University. She also shared timeless words of advice.
The former First Lady is still on tour for her new book "Becoming." On Tuesday, before heading out to Little Caesars Arena to promote it, she popped into the Motown Museum.
That's where a group of young men was discussing education with Obama's brother Craig Robinson. Keegan Michael-Key, an actor and Detroit native, also shared words of wisdom with the college students. The video is found below.
A clip showed as Obama stepped into the gallery and drew wide-eyed looks of amazement from the men. They applauded as the 54-year-old gave her unexpected, but much welcomed, appearance.
Obama hugged her brother and the actor. Key jokingly asked the group if she could sit down. Robinson also teased his sister saying, "this is supposed to be boys only."
Obama responded before taking a seat:
Wearing a dark blouse and black and white plaid pants, she joined the conversation. The mother of two spoke to the boys about their place in universities and how they should move forward.
"Universities are looking for — and should be looking for — a diverse array of experiences, people from different backgrounds because if everybody looked the same and experienced life the same way, what would these conversations be like, just a bunch of people agreeing with each other?"
"But the other thing you have to remember is that they admitted you for a reason. None of these schools want to have high attrition. I've worked for universities. … I've been a dean of students."
"I know that schools think long and hard before they let anybody in because they don't want you to fail because that looks bad on them. … They want you to succeed, so you're there because they know that you can."
Obama advised the young men to "get out of [their] heads." Meanwhile, Key reminded them: "If you're here, you're supposed to be here."
Obama remains a beloved first lady even two years after her role in the White House. Current first lady Melania Trump is also admired by many.
The two women can both hold their own despite obvious differences. In fact, both ladies declined their future president husbands when initially asked out.
Melania forewent giving Donald her number, she instead asked for his. Similarly, Michelle rejected Obama's first date requests before she gave in.
Of course, both women have stepped back and allowed their husbands to be who they are. But like any marriage, both couples have to put in the work to reap the rewards.
Both Obama and Melania have had to bear the burden of tough work and personal life as first ladies. Obama spoke of the challenge in early November.
At the time, she addressed a popular method labeled the "Lean In" technique. The method was spouted by Sheryl Sandberg in her book of the same name.
At an event in Brooklyn's Barclays Center, Obama advised her audience that "that [expletive] doesn't work all the time." Her casual swearing prompted laughter and applause from the audience.
The writer then apologized for her slip-up, saying she forgot where she was for a while. Surprise appearances and unexpected swearing are just more candid behaviors that make fans love her.
Please fill in your e-mail so we can share with you our top stories!