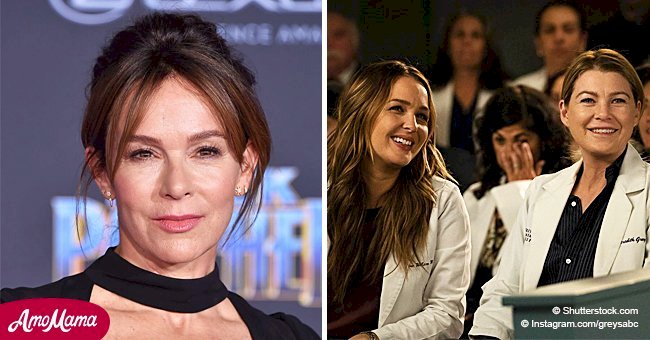 'Dirty Dancing' Jennifer Grey joins 'Grey's Anatomy' for a secret multi-episode role
Actress Jennifer Grey is best known for her role as Frances "Baby" Houseman in the cult dance film "Dirty Dancing." But she will soon dazzle viewers on the small screen too.
ABC has confirmed that Jennifer will soon be putting the Grey in "Grey's Anatomy" during a midseason arc.
The actress last appeared on an ABC show eight years ago as a contestant on "Dancing with the Stars."
Read more on our Twitter @amomama_usa.
GREY DAYS
The network and producers have not yet revealed which role Jennifer will be portraying, although fans speculate that it will be the mother of Jo, portrayed by Camilla Luddington.
Jennifer is not the first person in her family to be cast in the hospital drama. Her father, Joel Grey, played an Alzheimer's patient in "Grey's Anatomy" in 2009.
The next season of the hit show will be televised from January 17.
DANCE AND COMPETITION
Casting has not always been easy for Jennifer Grey. When the producers and directors of "Dirty Dancing" cast her in the role of Baby, they soon encountered challenges.
Jennifer was not happy with her male lead and co-star Patrick Swayze, as she felt intimidated by his superior dancing and their personalities differed a great deal.
This annoyed Patrick and caused the directors to have a difficult time shooting the film. They sometimes needed to take 25 shots of the same scene.
Eventually, he realized that her faults were mainly due to lack of experience and immaturity. He took charge and taught her to dance and act. Their on-screen chemistry blossomed as a result.
FACTS ABOUT THE FILM
Besides the initial love lost between Jennifer and Patrick, there are many more little-known facts about "Dirty Dancing."
Patrick not only acted in the film but also worked with the music department. He co-wrote and performed the song "She's Like The Wind" from the soundtrack.
Many of the scenes were unscripted and came about as part of warm-ups and fun between takes. This includes the scene where the leads crawl towards each other and when he teaches her to dance and strokes her arm.
Please fill in your e-mail so we can share with you our top stories!