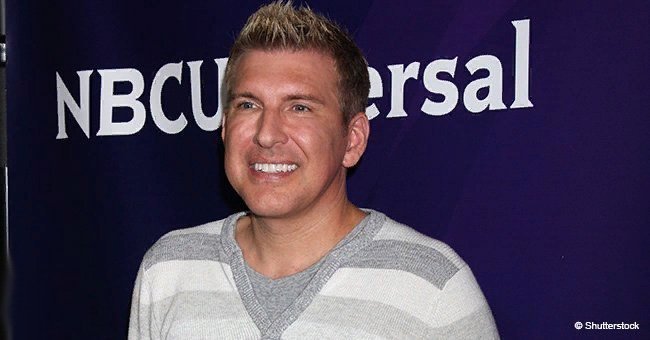 Todd Chrisley's Biracial Granddaughter Melts Fans' Hearts in Cute Photos

Estate mogul and reality TV show star, Todd Chrisley, always uploads photos to Instagram of his granddaughter, Chloe.
Chloe used to be a regular on Chrisley's show, Chrisley Knows Best. She was removed as one of the main cast members when her father, Kyle Chrisley, threatened to sue USA Network.
As reported by Inquisitr on October 21, 2017, Todd didn't want any of the show's profit or monetary benefits to go to his estranged son. The show is currently in its sixth season and still doing well.
Read more on our Twitter account @amomama_usa
Chloe and Todd's 12-year-old son, Grayson, are often described as the "heart of the family." They love her as if she was their own and she has been a regular feature on their Instagram pages.
One of the latest videos of the sweet girl shows how beautifully she's grown, getting over 15.000 likes. The fans are still eating her up.
A July picture of her and cousin Jackson -son of Todd's daughter with Teresa, Lindsie- is one of the photos that has warmed up hearts the most. Todd captioned the pic:
"These two are truly have been such a blessing , it's hard to believe how fast they are growing ..."
Fans may remember Todd uploading three images of Chloe eating pizza and cookies in 2017 that went viral almost instantly. The posts have been liked over 113,000 times and accumulated masses of comments.
In the first image, Chloe is eating a slice of pizza, but her mind appears to be elsewhere. Todd perfectly captured the moment when she remembers that she still had a half-eaten cookie.
The second image shows an excited Chloe reaching for her cookie. Todd's captioned it:
"The moment you realize the cookie arrives."
The third installment shows Chloe biting into her cookie while looking straight at the camera. She had no idea that Todd was taking photos of her.
Kyle hasn't appeared on screen since the first season. He battled drug addiction and left the show after he had an affair with a married woman, Angela Johnson. Chloe was the beautiful result of that unfortunate affair.
Todd and his wife Julie have sole custody of Chloe.
We hope to see more of her in future episodes. Todd told People in May that she will be back on the series now that she understands the show and wants to be a part of it, and he hopes that her relationship with Kyle can grow too.
Please fill in your e-mail so we can share with you our top stories!