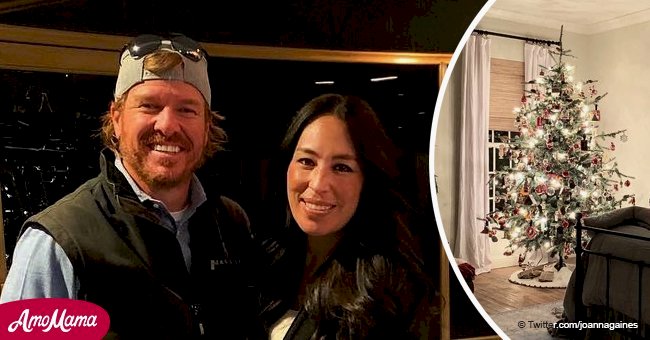 Joanna Gaines shares the sweetest Christmas tradition she got from Chip's mom
During Christmas, new traditions are started, and some are dropped, it is Christmas again, and blogger Joanna Gaines shared her favorite Christmas tradition which she got from her husband's mother.
Joanna has a lovely family, and during Christmas, there are things they like to do – like get two massive trees for instance.
According to the blogger, her husband's philosophy when it comes to trees is - "bigger is better."
Follow us on our Twitter account @amomama_usa to learn more
So it is no surprise that this year, the family's choice of tree is a 13 feet tall pine; it was brought home straight from the farm.
This tree is to be decorated merely with "shiny silver ornaments," and this is only the first tree.
The second tree that Chip and Joanna get for their Christmas is referred to as "family tree."
Their "family tree" stays right in the den which now serves as their second living room.Decorating this tree is entirely different in a unique way.
"The colors, stories, and ornaments that go on the family tree are snapshots of the life that we've shared over 15 years" – Joanna Gaines
The idea for decorating the family tree came to be from a lovely tradition started by Chip's mother years ago; Joanna loved it so much, she couldn't wait to copy it.
Every year, Chip's mom gives everyone an ornament on Thanksgiving Day. Joanna not only copied this idea but also modified it a little to become one of the family's adorable tradition till date. She, like her mother-in-law also gets her husband and kids ornament – one that depicts a memory from that year.
When it's Christmas, everyone brings out their ornaments and hang it on the "family tree."
Over the years with so many ornaments owned by each person, the tree is always filled with lovely and brightly colored ornaments hung around it.
"It's those moments, all of us looking for the perfect spot to hang our favorite ornaments, that has made this tree one of my favorite things about the holiday season." – Joanna Gaines
The den had been the perfect place for the "family tree" for so long until this year. A new baby boy "Crew" joined the family, and the den had to be transformed into a nursery.
While deliberating on where to put the tree, they all decided on the master bedroom. Now their bedroom looks too perfect with all the lights and ornaments on the tree.
According to Joanna "there's nothing quite like falling asleep to a lit Christmas tree every night."
Please fill in your e-mail so we can share with you our top stories!