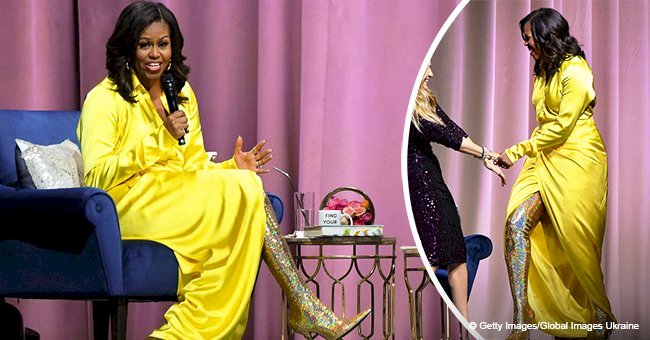 Michelle Obama steals the show in $4K thigh-high glittery boots & matching Balenciaga gown in pics
Michelle Obama made a stunning fashion statement, shown in the pics below, during an appearance on the final stop of her book tour. For her interview, she wore $4k thigh-high boots and a Balenciaga gown.
The former first lady of the United States of America, Michelle Obama was interviewed by Sex and the City star Sarah Jessica Parker. The appearance was the stop of her book tour and she took the opportunity to make a stunning fashion statement.
Obama donned $4,000 glittery thigh-high Balenciaga boots paired with a matching Balenciaga gown to the packed Barclays Center in Brooklyn on Wednesday night. She was interviewed about her new book, Becoming.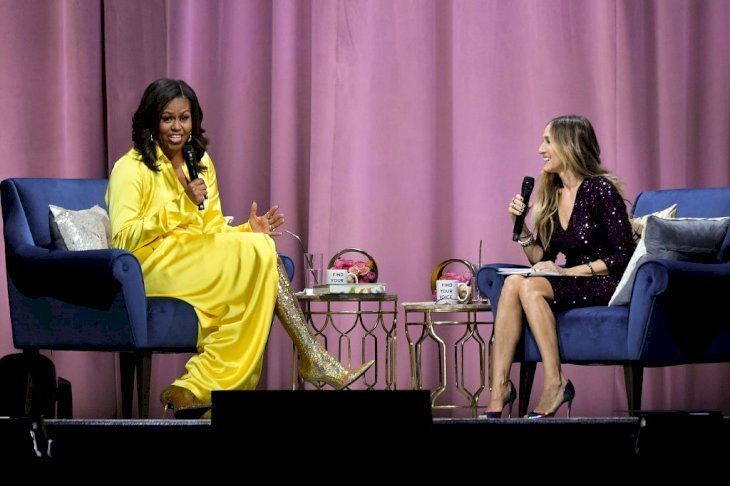 Getty Images
Her striking yellow Balenciaga dress was an item from the Spring/Summer 2019 ready-to-wear collection. The collection is not yet available to the general public.
She kept the rest of her look relatively standard and allowed the striking outfit to do the talking. Her makeup and hair were kept minimal as well.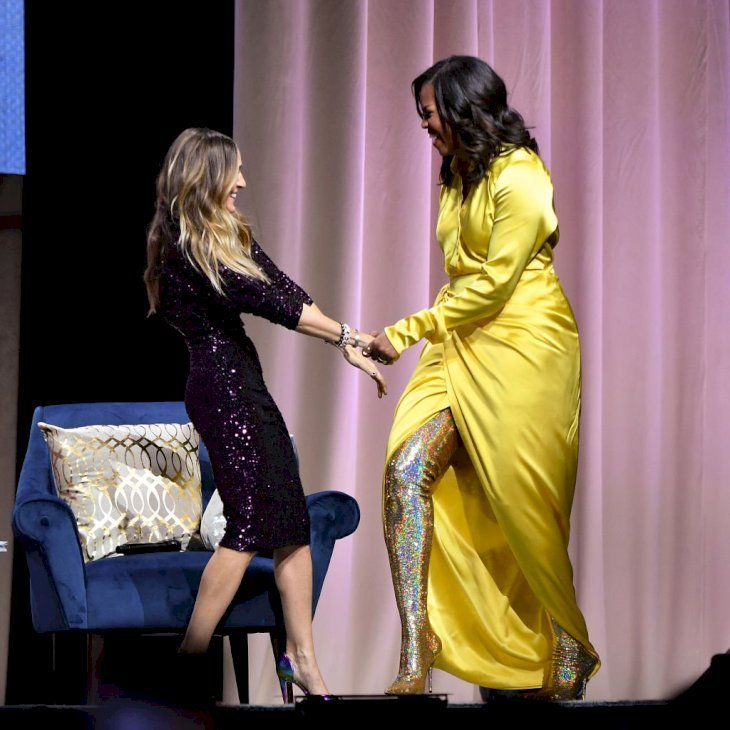 Getty Images
While in the White House, she had made many headlines for her style choices and she finally spilled all the details. During the event, Obama addressed the choices behind her outfits as the first lady.
Her eight years as the first lady, saw Obama establish herself as a powerful influence in fashion. The dresses she wore would often sell out hours after she wore it.
Obama revealed, "I did know that my clothes were making a statement, I knew that was the case. 'So we decided why don't we use this platform to uplift some young new designers who normally wouldn't get this kind of attention, because you can change their lives, which is one of the reasons why we chose Jason Wu for my inaugural gown."
She has clearly continued her fashionable trend. Her stunning outfit for the last stop was not the only head-turning outfit donned by the mum-of-two.
Earlier in her book tour, she stunned fans by donning a custom white satin tuxedo and designer caged booties.
"If people flipped through a magazine primarily to see the clothes I was wearing, I hoped they'd also see the military spouse standing next to me or read what I had to say about children's health," said Michelle when asked about her style once.
Please fill in your e-mail so we can share with you our top stories!