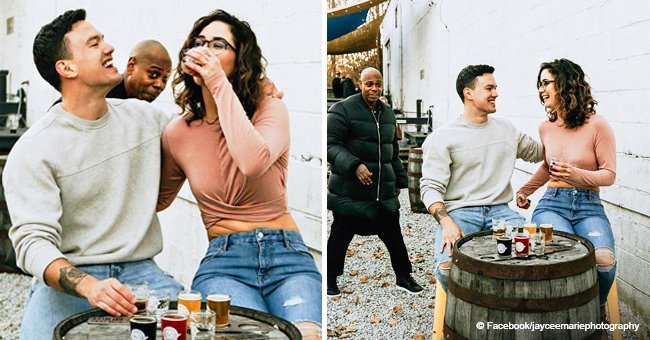 Photo of Dave Chappelle photobombing couple's engagement shoot is still pure gold
Dave Chappelle recently joined in an engagement shoot he was not invited to. Certainly, the 'photobombing' trend has become a hit and had social media users laughing.
Photographer, Jaycee Marie, recently posted on her Facebook account the funniest photobombing of an engagement shoot which caused thousands of reactions on the social media platform.
She posted three photos of a couple's engagement shoot with Dave Chappelle photobombing at the background. She shared the epic moment and said,
"So, I was shooting this engagement session at a brewery tonight and this dude photobombed us... idk, you may have heard of him. Dave something?? LOL NO FOR REAL GUYS! THE Dave Chappelle photobombed our shoot. I'm going to have to quit photography now because how will I ever beat this? I just can't HUGE shoutout to the man himself. He was so nice and truly made our day. I think it's safe to say Emily + Tommy have the coolest engagement photos EVER. Is anyone else DYING over this? Because I am Feel free to SHARE"
The engagement shoot was for a couple, Emily and Thomas from Dayton Ohio, who were legitimate fans of Dave because of his hit series The Chapelle Show. Usually, photo bombers are not wanted in photos definitely hated for it, but this photo bomber became the star of the show and made the shoot even more special and memorable.
According to Dave, he does not usually accept photo taking with fans, for personal reasons perhaps. However, this one was an exception, and a very incredible one. Thomas even had a special message for Dave, which he shared online,
"This has been an incredible experience, and we've enjoyed every day of riding in the wake of your fame. There's no pressure, but a weeing invitation will be heading your way!"
Imagine that for an engagement experience!
Please fill in your e-mail so we can share with you our top stories!