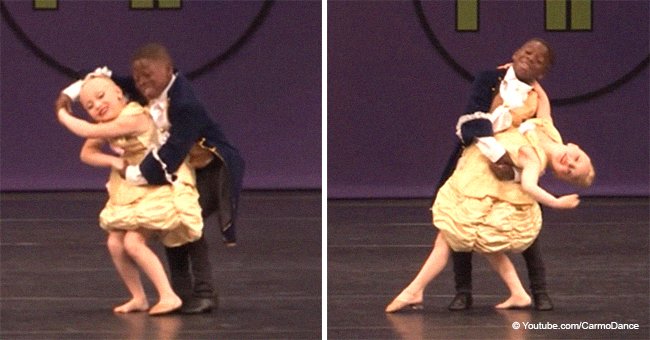 Meet duo who went viral after their unforgettable 'Beauty and The Beast' themed dance performance

The iconic duo of a 9-year-old and 11-year-old went viral as they rose to fame in their "Beauty and the Beast" themed performance. The hit dance landed them a spot at the quarterfinals of America's Got Talent.
Two child stars rose into fame and went viral on the internet after a spectacular dance duo of a "Beauty and the Beast" themed performance. The video uploaded on YouTube gained over 1.6 million views in an instant and comments on the cutest performance and the phenomenal possibilities of the into rising into fame in the near future.
While what can be imagined from a "Beauty and the Beast" performance is a soft, slow, and melodramatic scene, the very young duo was able to incorporate acrobatic and flexibility skills into the dance, which moved and left the audience at awe. What makes it even more incredible is the young age of the dancers.
Paige Glenn Celestine and Aryton have been partners in dancing for a time in Murrieta, CA. This is also the location of their training school, Academy of Ballet Arts, Murrieta Dance Project and ImmaBEAST in LA. They are not only very cute, but very talented as well, as proven time and again. On a normal day, they seem like ordinary kids just doing them, but once they hit the dance floor, they immediately become serious and put on their best performance.
Apart from joining America's Got Talent, they have also appeared on Little Big Shots, Lip Sync Battle Shorties, The Ellen De Generes Show and Access Hollywood Live. The two seem to be perfect dance partners who can sway and groove at a synchronized beat, making them a "match made in heaven." Additionally, at a very young age, they have made themselves known in the world of dance – who knows what's yet to come in the future for these two? Well, only time can tell but obviously, it will be big!
Please fill in your e-mail so we can share with you our top stories!