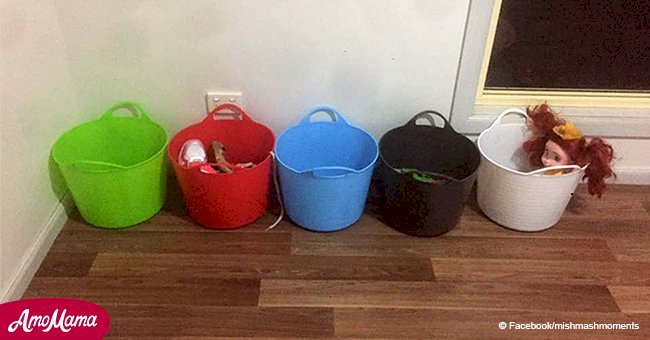 Mom uses 5 buckets to make her kids clean their clutter, and this hack went viral among parents

Mom shares in the networks her method for her children to order the house and it goes viral immediately.
"If my children leave a toy, implement or item of clothing around the house, it goes to a colored container that is assigned to their things, if at the time of sleeping the container still has some object, that object goes straight to the trash bin, because I'm keeping the house clean."
In this way a very ingenious mother and really fed up with the disorder of her children in the house, which she constantly had to pick up, explains her creative and apparently effective solution to the disaster in her house.
Read more on our Twitter account @amomama_usa.
We are talking about Jessica McGuinty, who shared a few months ago on her Facebook page, Mishmash Moments, a photograph where you can see five containers with some toys in a space that looks apparently neat and clean.
To say that the photograph went viral a few days ago is modest since it has triggered a series of comments and has been shared thousands of times, proving that most of the mothers online are quite desperate to put some order in their homes.
Although this system does not replace the training of our children to perform small tasks in the home according to their age and development, we agree that the system seems to be effective since it presents a very short learning curve that any small child can understand.
The instructions are simple: before leaving a room you have to collect toys or used objects in your own container, but if they are still there at bedtime, they simply leave the house, at the garbage dump.
As simple as it seems it is incredible that the publication has already reached 43 thousand "likes", 25 thousand comments and has been shared more than 28 thousand times, so there is no doubt that the container method is finding its place in more than one home.
Valerie Williams, who writes in the blog Scary Mom, comments that the idea of McGuinty is simply great, and even calls it "cleaning witch", since it is simple, easy to learn and what is better, it really works.
"Each one of us, who are raising children, know what it is to deal with lots of toys, dolls, music scores, soccer or baseballs, Lego pieces and any other toy every day. There is no way for the floor to remain tidy and clean unless we are on top of each family member to pick up their mess. "
However, even if we wanted (we do not want) we can not spend the whole day chasing our little sprouts to pick up, there are other things that also require our attention, so most of us just pick up what they leave watered and move on.
According to shared media, the system of this mother of five children under nine years, which in English is "F * cket Bucket", a play on words that does not make much sense for our Spanish, has changed the life in your home drastically
"I never imagined I would be so receptive, I simply shared what is working in my house and the networks have gone crazy," he said. Likewise, McGuinty is considering the business possibilities that his brilliant method of cleaning and order can generate.
With the national discussion around the #MeToo movement, as well as sexual misconduct allegations against Brett Kavanaugh and other headline-makers, reaching a fever pitch, more parents and educators are talking to kids about consent.
A third-grade teacher in California recently took to Instagram to share a simple but brilliant chart that she designed to teach her 8- and 9-year-old students about the concept.
Parenting is difficult at all ages, but there are particular challenges involved in parenting that require a higher level of patience.
In his Facebook profile, Terrel Crawford describes himself as an entrepreneur, mentor, and motivational speaker, but he is also the father of an adorable three-year-old girl named Ari.
On August 6, 2017, after Ari began to misbehave during a trip to the Walmart, Crawford went live on Facebook to chronicle the event.
Please fill in your e-mail so we can share with you our top stories!