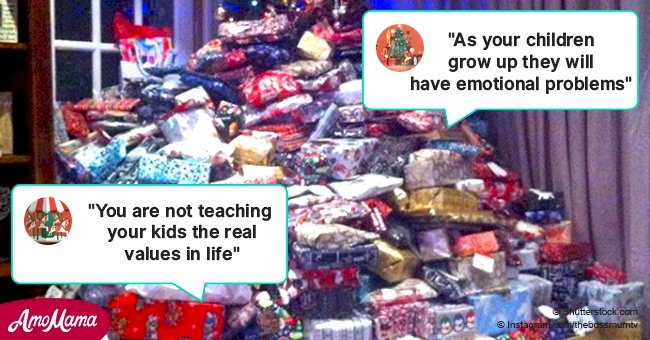 Mom receives harsh comments after posting a pic of mountain of presents she bought for her kids
Over the past few of years, Emma Tapping has become popular for her huge stack of gifts that almost cover her Christmas tree, and it was no different this year as well.
The mother-of-three from the Isle of Man has always been criticized for her stockpile of Christmas, which many have deemed to be a huge "bragging." This year, the criticism on her continues with many people advising her to donate the gifts instead.
Despite the photograph of her presents stockpile going viral controversially, Tapping is not concerned about it. The mother has explained that she feels all that is worth it when she sees the faces of her children – Mia, Ella, and Tatum – finding the present.
Tapping who spent over $2000 on 350 gifts last year, as per her interview with the Sun, has gone even more overboard with buying presents this year.
Follow us on Twitter to learn more.
Earlier on December 11, Tapping posted a video on her Instagram revealing big boxes of presents lying all over her room. The video shows that the proud mom had outdone herself this year in terms of piling up the presents.
Since her upload, many people have branded her action "disgusting" and "selfish" because of her extravagance. One Instagram follower even suggested, "So many people have nothing you should donate them."
Another wrote, "Pretty sure you're losing sight of what Christmas is actually about with all those gifts. Might just be because I have 11 under my tree, but this photo is just disgusting."
However, it was not just comments of hatred on Tapping's post. A few people also supported her claim that she should be able to buy what she wants with her hard-earned money.
Tapping has been receiving criticism on her presents-laden photographs ever since she first posted it back in 2015.
She was then deemed to be "idiot" and "materialistic" by several people. Tapping had then responded to the criticism by reminding people that she did not mean to brag.
She also clarified that the pile of presents are not just for her children but also for herself, her partner, and her mother.
Please fill in your e-mail so we can share with you our top stories!