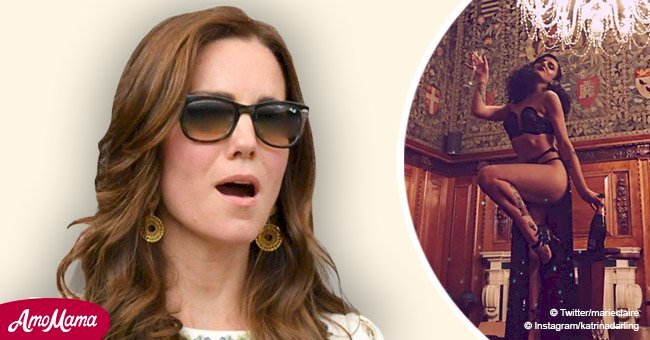 Kate Middleton's cousin is a burlesque dancer and Playboy model, and her moves are provocative
Katrina Darling was in the spirit of giving when she shared some enticing photos with followers on Instagram.
Darling, a burlesque dancer and adult performer, posted some near-naked pictures of herself to the social media platform.
The sensual woman's relation to the royal family has drawn in lots of attention to her photos. Follow us on Twitter for more @amomama.
According to the NY Post, Darling is the Duchess of Cambridge's distant cousin. Her grandmother is the sister of Kate Middleton's great-grandfather.
Reporters made the discovery in 2011 after Middleton wed into the royal family. Darling was shocked by the news.
She said at the time:
"It was the most ridiculous thing I ever heard. It's not every day something like that happens."
Darling, 22, landed a Playboy magazine spread soon after the connection to royalty got out.
Moving from Sunderland, her hometown, to Manhattan's W.i.P club, her career took off.
The seductive performer appreciated the different rules in the Big Apple. In an interview at the time, she said:
"You can't perform topless or have anything showing downstairs in the UK — oh, your backside is fine. But here you can do pretty much anything you want. New York is out there, man. It's a totally different book altogether, and I love that."
Meanwhile, her followers love her displays, including a routine she does to the song "God Save The Queen." Darling said she's been doing it for years and it has nothing to do with her relation to the royal member.
Although Middleton has no such past, she does have a few overlooked things in her history. For example, the Duchess of Cambridge kept a poster of Prince William up on her wall as a young girl.
Middleton also worked a nine to five following employment by her parents. This followed college which featured a gap year to Florence, Italy for language lessons and Renaissance lectures.
The 36-year-old may not be close to her dancer cousin, but she is close to her stylist, Natasha Archer. Archer has been working with the family for 11 years.
We're sure Middleton was happy when Archer welcomed her first daughter with husband Chris Jackson. The two shared gorgeous photos of their newborn last week.
Please fill in your e-mail so we can share with you our top stories!