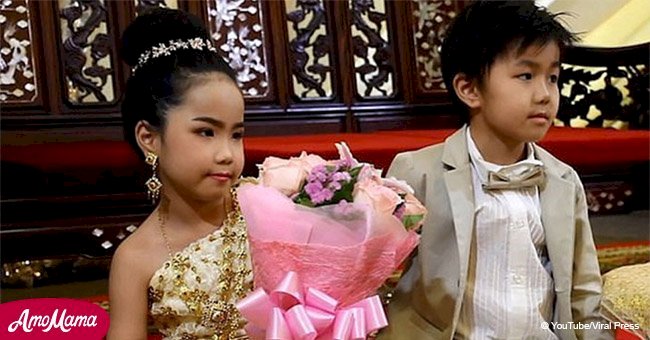 6-year-old twins marry in Thailand because parents believe 'they were lovers in past lives'
The six-year-old twins get married in a grand ceremony due to Buddhist belief that twins are born out of 'karma' from relationships in the previous life.
According to a video report from Viral Press, the twins, nicknamed Guitar and Kiwi, were thought to be lovers in their past life, which led their parents to marry them.
In Buddhist tradition, the birth of twins is explained as 'karma' of two lovers from past life being re-born together as some debt from the previous life has not been settled.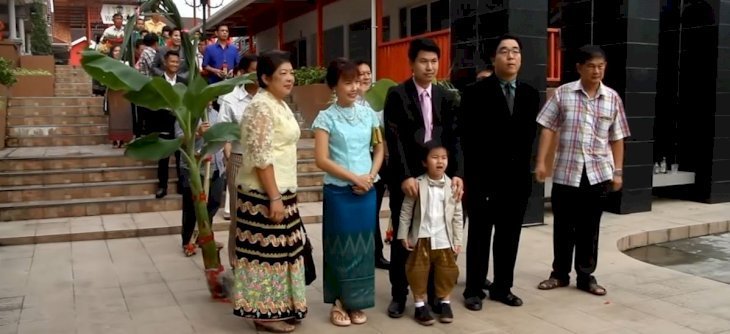 Source: YouTube/Viral Press
The twins' father, Amornsan Sunthorn Malirat, and mother, Phacharaporn, threw a lavish wedding ceremony for their children spending over thousands of dollars. It was arranged in Samut Prakan, just outside of Bangkok, Thailand.
The tradition further states that the twins should get married as soon as possible, once they are old enough to be married, otherwise they may suffer from bad luck.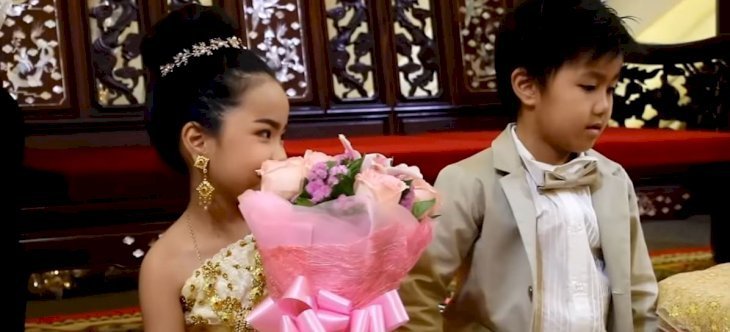 Source: YouTube/Viral Press
"The reason for the marriage ceremony is because we believe that both the children used to be partners in the past life. This is a belief we have inherited from ancient people," the father of the twins told the news outlet.
He further explained that the children would go on to live a "healthy and successful lives and not be sick" if they are quickly married.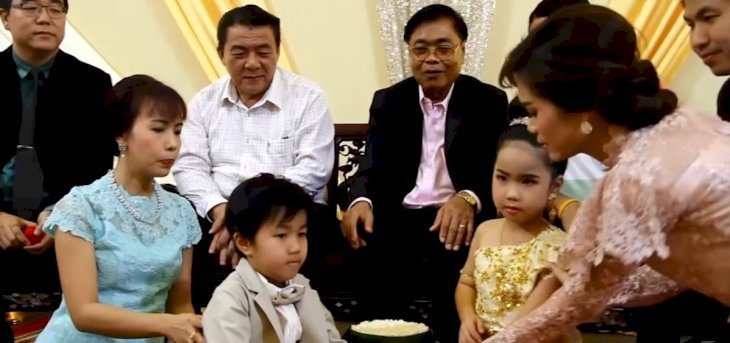 Source: YouTube/Viral Press
The wedding also included several games and a street procession as is the popular Thai tradition. As per the custom, young Guitar paid a dowry of 200,000 baht (around $6,000) in cash and gold so that he could marry Kiwi.
Following the ceremony, the twins also posed for photographs with their arms around each other.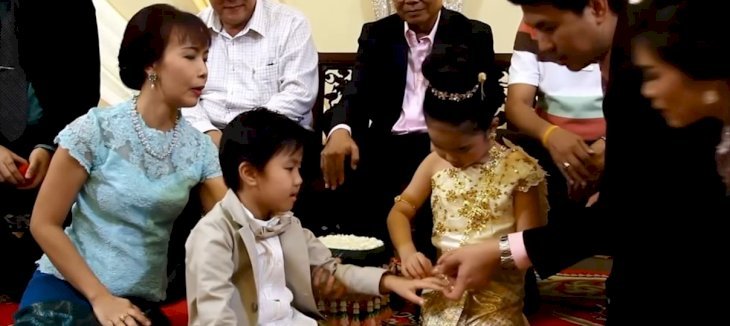 Source: YouTube/Viral Press
Surprisingly, the wedding ceremony does not give the marriage a legal binding. Both Guitar and Kiwi are free to choose their own partners when they grow older.
Their mother, Phacharaporn, also told the news outlet that this "marriage" meant that the two of them would remain the "best of friends" for the remaining of their lives even if they seek out other partners in the future.
Due to its traditional and cultural significance, a wedding between Thai twins is all too common. Earlier in September, another pair of five-year-old twins were also married in a similar ceremony in Ang Thong province of southern Thailand.
Follow us on Twitter for more information.
Please fill in your e-mail so we can share with you our top stories!