Toya Wright recorded a heart-warming video of her baby girl sleeping in a cute pink set
Toya Wright's 10-month-old daughter, Reign-Beaux, is constantly melting hearts on social media with her adorable outfits and bright smile. The baby girl celebrated her first Christmas alongside her big family, and her gifts were the envy of many.
Toya Wright is not shy when it comes to  gushing about her baby girl Reign. She is always sharing pics and videos of the toddler on Instagram, and one of her most recent stories showed a sound asleep Reign rocking a cute set of pink pajamas. She was probably exhausted after playing all day with her new toys.
Reign's first Christmas was a complete success. She got to spend it with her parents, Toya and longtime boyfriend Robert 'Red' Rushing, her sister Reginae, and her closes cousins, aunts and the rest of the family who flew into Atlanta for the holidays.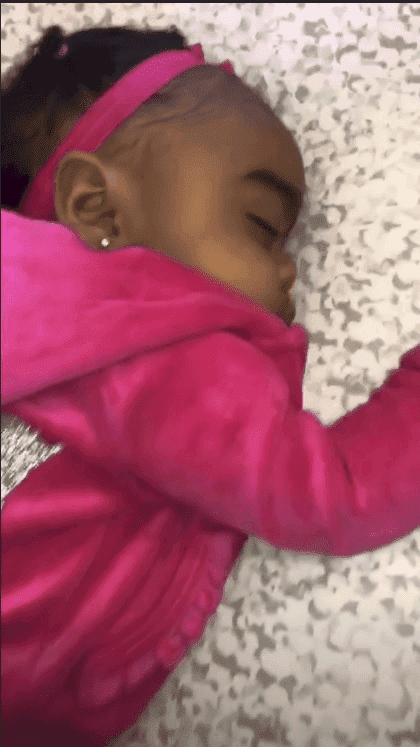 FIRST CHRISTMAS MORNING
Wright made sure to document the highlights of Christmas morning for fans to see, showing off her tree filled with gifts, including a piano toy and a pink convertible car for her daughter. But while other kids might be drawn to those gifts, little Reigny was on cloud nine playing with a toy iPhone and ignoring everything else.
In a hilarious video where Toya opens a set of pink brooms and shows it excitedly to the girl, Reign stops for a few seconds and then continues to play with her phone, causing her amused mom to exclaim "She don't care about nothing but the cellphone."
Fans filled Toya's comment section to gush about Reign and her gifts, and most agreed the girl is adorable and has a lot of attitude for a 10-months-old.
"@alanawing: Reign is multitasking, singing, playing the piano, talking on the phone. So adorable."
"@liciaclove: Reign says Where you going with that broom? She's not Cinderella."
"@queen_kreations: @toyawright she is not about to put that phone down everything one hand now lol."
GIVING BACK TO THE COMMUNITY
Basking in the Christmas spirit, Toya made sure to offer more kids a happy holiday.
She joined friends Rasheeda Frost and Kandi Burruss to give back to the community by surprising ten moms with all of the gifts on their respective kids' Christmas list and delivered them in a special event with Santa, a brunch, music and more surprises for the unsuspecting moms.
"My girls and I came together to make sure these beautiful mothers have an amazing Christmas. We picked a few families and bought everything on their children's Christmas lists. They had no idea that we were doing this. They thought they were meeting with someone to see about something else entirely," Wright explained on her Instagram.
"I enjoyed every moment with these ladies...it's such a blessing when you are able to bless others. I know what's it's like to not have so I love giving when I'm able. #BBC #giveback #christmas2018."
Toya is currently starring on the VH1 reality show "T.I & Tiny: Friends & Friends Hustle," alongside Tameka Harris and husband T.I.