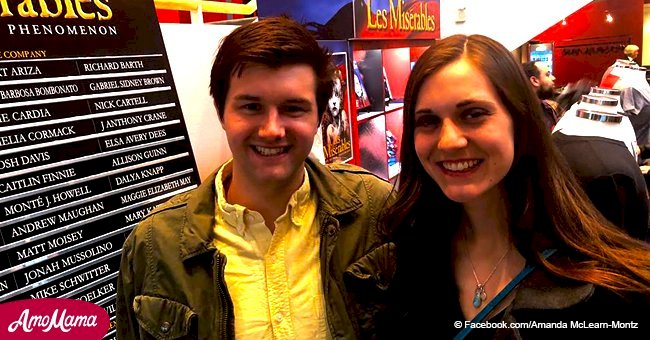 Couple 'stressed and disappointed' as government shutdown forces them to change wedding plans

Amanda McLearn-Montz and Ian Buchta had everything ready to celebrate their dream wedding in a national park and didn't expect the government shutdown was going to make them change their plans in a rush.
The wife-to-be had covered every detail for her intimate wedding with the man she loves. The two decided on an intimate wedding with roughly 20 guests to be held at the Cabrillo National Monument Park in San Diego, California, on December 29.
A government shutdown was the last thing in the couple's mind, but that is what happened on December 22, when the federal government stopped functioning over a lack of funding, including national parks.
This left the two with just one week to readjust their plans if they didn't want to reschedule the ceremony. Read more on our Twitter account @amomama_usa
"I'm still disappointed we will not exchange vows at Cabrillo. Cabrillo is a beautiful place; its gorgeous cliffs and wildlife fit my fiancé and me so well and would have been the perfect setting to make our promises to each other. But we're making the most of it."
-Amanda McLearn-Montz, Insider, December 26, 2018.
Two days before Trump announced that the negotiations with Democrat senators over the funding of a wall in the US-Mexico border had failed to come to a satisfactory conclusion and said he was not going to yield, the couple was prevented about a possible closure of the park.
According to McLearn-Montz a Cabrillo park ranger phoned her to tell her that if the government shutdown finally happened the park might be interrupting its activities until funds were approved by Congress.
"We watched the news anxiously the next day and a half. We heard the update about the government's official shutdown and waited for the ranger's call," McLearn-Montz recalled.
"On Saturday morning (Dec 22nd and one week before our wedding), the ranger called and said the park would definitely be closed. He apologized and wished us well," she said.
As frustrating as this news were for the couple, they knew the wedding was still going to take place, and they started looking for a new location.
Fortunately, McLearn-Montz's parents found a very nice spot to relocate the ceremony. It will have to be indoors, in a church that was available for the date, but they will still have a reception in a restaurant with an ocean view.
"[My fiancé] worked as a marine science teacher for two years... he would have loved to incorporate it into his wedding. But he keeps reminding me that he doesn't care what happens on the 29th as long as he gets to marry me," McLearn-Montz said.
"I think he'd marry me in a dingy basement as long as he knew we would get to spend the rest of our lives together," she concluded.
It is believed that the most likely scenario to take place in this developing issue will be that Democrats will reopen the government in the first days of January, when they assume the majority of the House of Representatives.
"We have certainty. We will end this the first week in January," Democrat Representative Nancy Pelosi, the party's nominee to be Speaker of the House, said.
Meanwhile, about 380.000 federal workers were sent home, and another 420.000 with too important jobs to fulfill are currently working without pay, including first lady Melania Trump's Secret Service guarding agents.
As President Trump had to cancel his plans to travel to Florida with his wife for New Year's Eve to stay in Washington D.C. dealing with the situation, Melania flew to Mar-A-Lago to reunite with their 12-year-old son Barron.
The President's daughter Ivanka and her husband Jared Kushner also traveled to the Palm Beach County resort for Christmas, and were criticized for that as it implied that their unpaid security agents were going to be spending the holidays away from their families.
Please fill in your e-mail so we can share with you our top stories!