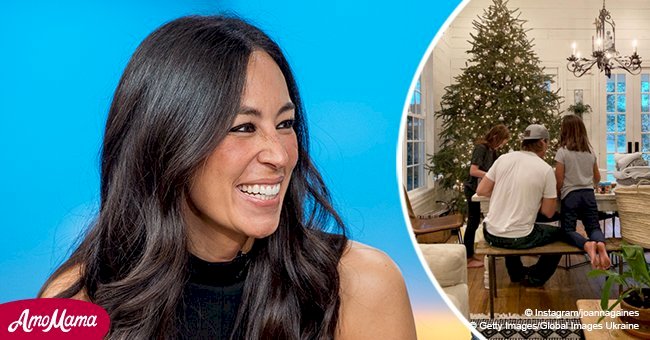 Joanna Gaines lifted the veil of her post-Christmas routine by sharing the cutest family photo

The Gaines' are all about family and tradition. This time of the year is one full of rituals, and the fans of the famous family have been delighted to learn more about how they like to spend Christmas and the days that follow.
The holiday season started very early in the Gaines' household, with 40-year-old Joanna, being the tasteful and talented decorator she is, starting to bring the Christmas spirit to their home early in November.
Joanna and her 44-year-old husband Chip, former stars of the HGTV reality Fixer Upper, have every reason to celebrate this year, as this was the first Christmas they spent with their youngest child, 6-month-old Crew.
Apart from revealing her amazing and inspiring Christmas decorations all through the season, the mother-of-five shared what was life at home for them on these days. Read more on our Twitter account @amomama_usa
Now that Christmas Day is behind and we are approaching the end of 2018, Joanna has once again taken to her Instagram account to unveil some of her family's post-holiday customs.
On December 26, she posted a snapshot showing her daughters, 8-year-old Emmie Kay and 12-year-old Ella Rose enjoying some time off with their father, seen from the back as if they were unaware of her presence.
"Laundry and Legos," Joanna simply captioned the image, revealing what the three were so busy with on that table, while the laundry was piled up on the remaining space.
One of the beautifully decorated Christmas trees the Gaines' set up at their house is visible in the background of the photo.
The post has already gathered more than 660.000 likes and received several comments from followers.
"Love family time! Thanks for showing the world what it's actually supposed to look like!" user "itsryanclifford" said of the picture.
"Love the picture. I did the same thing yesterday. Laundry and legos. Happy new year to you and your family," added "susanaoboaparker."
Earlier in December, fans were thrilled to learn about a second Christmas tree in the Gaines' home, installed in a rather unusual place: the main bedroom.
The tree appeared in the side of a rare photo of Chip and all the children Joanna posted on December 11, as they all got together one night to watch a movie in the couple's huge bed.
The public was not only touched by the lovely family picture but also impressed by the location of the tree, something that will possibly turn into a trend.
As Joanna explained, the reason to do this is that their second living room is currently serving as Crew's nursery.
Please fill in your e-mail so we can share with you our top stories!