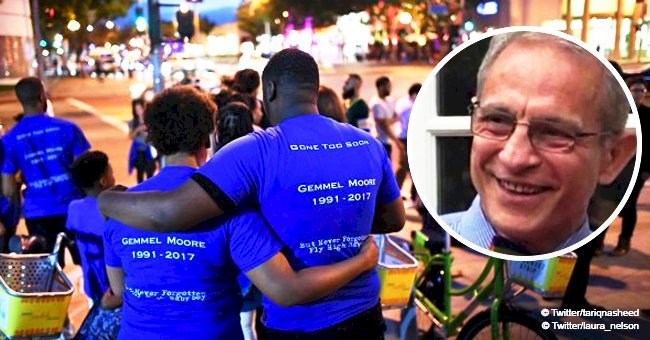 Protesters call for arrest of wealthy Democrat donor after 2nd black man is found dead at his home
Protestors are demanding the arrest of the wealthy Democrat donor, Edward Buck after a second black man is found dead in his home.
Police are investigating the second death of a black man found in the home of Edward Buck. This second death has occurred less than 18 months after the first man who died at the West Hollywood home of the Democrat donor.
Authorities revealed that an unresponsive black male in his 50s was found at 1 a.m. at Mr. Buck's residence. His death has many similarities to the July 2017 death of 26-year-old Gemmel Moore.
Buck, a white male, had not been charged after the first death. Authorities state that he is not considered a suspect in the current case either.
"It is suspicious that this has happened twice now," said L.A. County Sheriff's Lt. Derrick Alfred.
Buck's attorney, Seymour Amster, however, is chalking the latest incident up to partying and said the individual was taking "some substances" before he came to the Laurel Avenue residence. The dead man's identity has not been revealed.
The mother of the first victim, Latisha Nixon claims that men go to the house to take part in sexual fantasies. She says they help Buck live out his fantasies.
"He has them wear these long white 'under-johns.' He takes pictures of them. He hits them up with meth. The more meth that they smoke and inject, the more money that he gives them … It seems like everyone is turning a blind eye because my son was a gay black man and Ed Buck is a wealthy white politician." she said later in 2017.
However, Moore's death was determined to be an accidental methamphetamine overdose. The admissible evidence in the case was insufficient to prove beyond a reasonable doubt that Buck was responsible for Moore's death.
This was confirmed by the LA County District Attorney in July 2018. The admissible evidence was also unable to prove Buck was supplying drugs to Moore or that he possessed drugs.
It seems he intends to use a similar defense this time around. In a statement, he said that Buck and the victim had been friends for over 25 years. He revealed there would be no charges filed in the case.
"Yes, Ed does have individuals he associates with who have problems with drugs. He tries to talk them out of it. Sometimes they bring their problems into his apartment, and that's where the problem is," added Amster.
However, the Los Angeles LGBT Center, an organization that provides services and advocates for LGBT people, called on the Los Angeles County Sheriff Alex Villanueva to fully investigate the latest death. They are begging him to "aggressively seek justice."
They said in a statement, "Although the investigation is in its early stages, we urge Sheriff Villanueva to keep the public fully informed as LGBT people have a considerable and urgent interest in a case that is so clearly linked to the health and safety of our community. The reports we have heard provide more questions than answers."
Please fill in your e-mail so we can share with you our top stories!