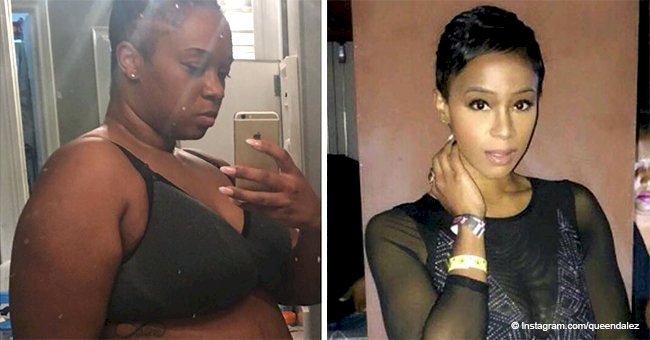 Mother of 4 reveals how her sister's sudden death pushed her to lose 145 lbs

DaleLynn Settle is inspiring people who are looking to change their lives through diet and exercise. The mother of four lost 145 lbs within a year and a half.
Settle, 32, was shocked into making a drastic lifestyle change after her sister died. 34-year-old Nikki's death was in part due to the state of her health.
Like Settle, Nikki was on the heavier side. She died unexpectedly when a blood vessel in her heart burst. Settle said she was "in complete disbelief and shock" after the loss.
Follow us on Twitter for more @amomama.
Knowing that her family has a history of high blood pressure, she took big steps.
She said:
"I knew I had to do something immediately. That same month I started my weight loss journey."
Settle's journey included a diet plan and hiring a trainer. She started at about 302 lbs. She reached that number over 12 years from having her first child.
Settle said of her 20s:
"I wasn't really dealing with my emotions and what got me there in the first place, and so over time the weight just started to pile on."
She continued:
"And then I became a stay-at-home mom after my daughter was born. So not being active, being at home with the newborn baby, and just feeling like my dreams for school, and my dreams for work and employment, were gone because I had this new family. That caused the weight gain."
Like many others, Settle attempted several diets throughout her life. In 2014, however, it finally stuck following her sister's death.
Consistency and determination led Settle to meal planning, training, and assistive surgery. She underwent lap band surgery to help with the process.
The stay-at-home mom recently started a YouTube channel on which she shares her story with others. It might inspire those of us who are looking to make a big start this new year.
Another inspiring weight loss story came from a young married couple. Lexi and Danny Reed began their journey in January 2017.
Lexi was 480 and Danny was 280 pounds. Together, they lost over 400 pounds. They also did it through exercise and healthy eating.
Please fill in your e-mail so we can share with you our top stories!