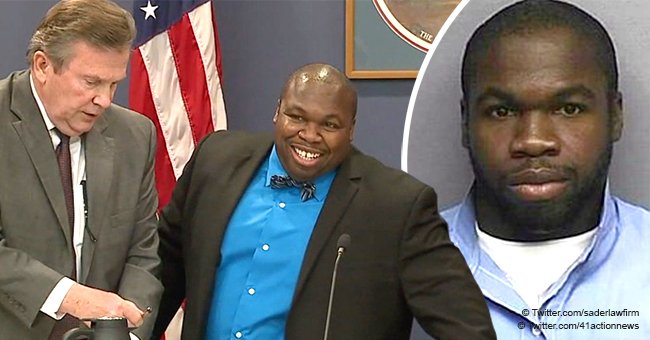 Ex-convict Kansas man's life takes major turn as he gets elected as local town mayor
An ex-convict in Kansas made a huge detour in life after he was elected as local town mayor, something he would not have imagined happening back in 2007.
During Jermaine Wilson's time in prison, he realized that he was done running into the law. Feeling like a caged animal, he made sure to stay motivated and made a plan of what he was going to do when he got out of jail. With nothing else but a piece of paper and a pen in his cell back in 2007, he listed down the way things were going to be once he was set free.
With God in his life, he promised that he would not get into drugs anymore, and he will not be "chasing the money". He's going to prioritize being in his 8-month-old son Jermaine Jr's life, and he was going to take some classes in prison to learn more about how things work. Once he gets out, he will dedicate his life to service, and start a non-profit organization.
While he had all of these plans written on paper, being the new mayor of Leavenworth was definitely not in his plans. However, last Tuesday night, he was given his seat at the City of Commission meeting to be announced as the town's newest mayor.
Who would have thought that 12 years after his three-year sentence on drug charges, he would be the highest elected official in his small town? Of course, he did not forget where he came from, and with Leavenworth County Attorney Todd Thompson, he worked on the prosecutor's plan of helping qualified ex-offenders to get their criminal records expunged.
Through this process, those who qualify to be candidates to have their criminal records erased can request for help from the prosecutor's office and work with their volunteer pro-bono attorneys to clean out their papers.
Wilson was first encouraged by his friends to try politics in November 2017, and ended up as the highest vote-getter in the City Commission, earning the position of Mayor Pro-Tem. When the commission met to resume working this year, the commissioners unanimously elected him as mayor, which drew massive applause and cheers inside the meeting room.
Of course, Wilson did not forget his goals, and started a non-profit called "Unity In The Community Movement". According to Wilson, everything that happened in his life was all according to God's plan, and although nothing comes easy, everything has definitely been worth it.
"God created us to work. Nothing comes easy or fast. You have to find yourself. You have to be willing to work."
As for what he has to say to people who are trying to start anew?
"Don't dwell on your mistakes. Get up and move. If you fall, fall forward so you keep making progress."
Please fill in your e-mail so we can share with you our top stories!