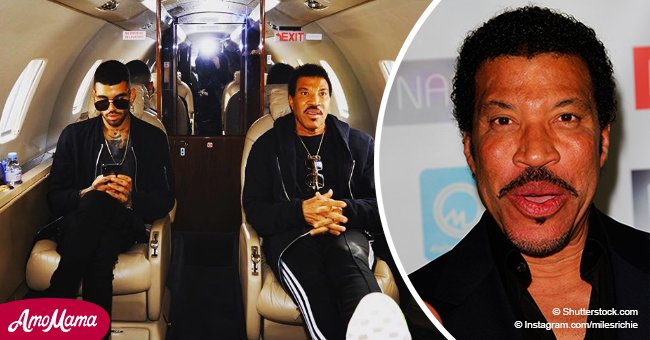 Lionel Richie's son reportedly arrested after threatening to detonate a bomb at an airport
On Saturday morning, Miles 'Milo' Brockman Richie was involved in an incident at London Heathrow Airport. He was arrested for threatening to detonate a bomb.
Lionel Richie's son was also accused of hitting a security guard.
Miles 'Milo' Brockman, 24, was cautioned by police after making a threat to airport security staff in London's airport at Terminal Five. The star claimed he had a bomb in a bag which would be detonated on a plane if he was not allowed on board.
Richie, who is a model, also allegedly hit a security guard in the same incident. According to Scotland Yard officers, a man accepted a caution for communicating false information causing a bomb hoax and battery, however, the man was not confirmed as Richie.
Witnesses shared that the model became irritable after being denied onto a flight. After making his bomb threat, Richie punched one of the members of staff before being detained by police.
Law enforcement sources said he's since been released with a caution. According to askthepolice.co.uk, a caution is a formal warning given to someone who has admitted they are guilty of a minor crime.
It also forms part of the person's criminal record. A police spokesman confirmed the incident saying:
"On Saturday, 19 January, a 24-year-old man accepted a caution for communicating false information causing a bomb hoax and battery following an incident at Heathrow Terminal 5 earlier that morning."
Music legend Lionel Richie, 69, and dancer Diane Alexander are the model's parents. He has a sister named Sofia Richie, 20, who also works as a model.
The parents split when Richie was eight and his sister was four. The model also has another sister, Nicole Richie, whom his father adopted with first wife Brenda Harvey in 1983.
The model's father was born on June 20, 1949. He is an American singer, songwriter, actor, and record producer who was a member of the band the Commodores in 1968.
Lionel officially launched his solo career in 1982.
Please fill in your e-mail so we can share with you our top stories!