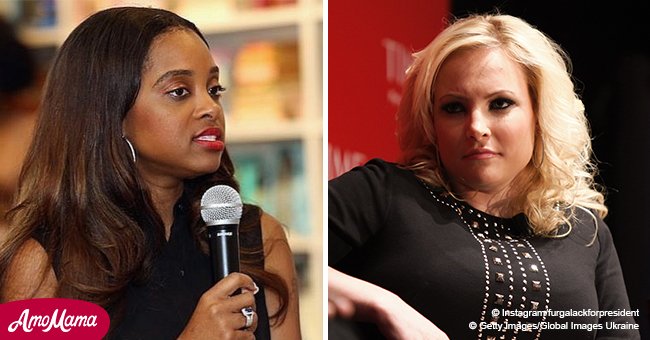 Women's March leader slams Meghan McCain, referring to her as a 'white woman yelling'
Tamika Mallory, Women's March leader slammed "The View's" Meghan McCain. She referred to her as a "white woman yelling."
Tamika Mallory and Meghan McCain butted heads on Monday. During an appearance on ABC's The View, Women's March co-chair Tamika Mallory was forced to defend her past praise for notorious anti-Semite Louis Farrakhan.
She drew a distinction between his hateful rhetoric and his political advocacy on behalf of African-Americans. Her statements were brought on by the many questions McCain threw at her.
"I didn't call him the greatest of all time because of his rhetoric. I called him the greatest of all time because of what he's done in black communities," Mallory said when asked about a February social-media post in which she labeled Farrakhan the "GOAT."
Her social media post about Louis Farrakhan played a major part in the conversation with McCain. Mallory came under fire after the appearance.
She allegedly failed to condemn Minister Louis Farrakhan during the interview. The public outcry forced her to make another statement later in the week.
During an interview on Thursday for "#RolandMartinUnfiltered" Mallory and staff writer for "The Atlantic" Adam Serwer discussed the Farrakhan conundrum. Roland Martin mediated the discussion.
During the interview with Roland Martin, Mallory claimed that McCain's line of questioning was unfair. She accused McCain of racism claiming she is a white woman questioning a black woman.
Mallory explained that she does think there are legitimate concerns about the Women's March. However, she continued to suggest that McCain's interview strategy had ulterior motives.
"Because Meghan McCain asked six questions at once, she never stopped to allow me to answer any," Mallory claimed. "But the nerve of people to believe that because she did all that, that I was supposed to just answer her as she said, so, so, 'Massa, you get to tell me how to respond,' that's not going to happen."
She went on to claim she felt pushed into a corner as McCain badgered her with questions. She eventually accused her of having a racist agenda.
She ended saying, "If people can't understand the implications of a white woman yelling at me and trying to badger me into saying what she says — even if I wanted to say it, I wouldn't have said it [in] the way in which she was speaking to me."
Please fill in your e-mail so we can share with you our top stories!