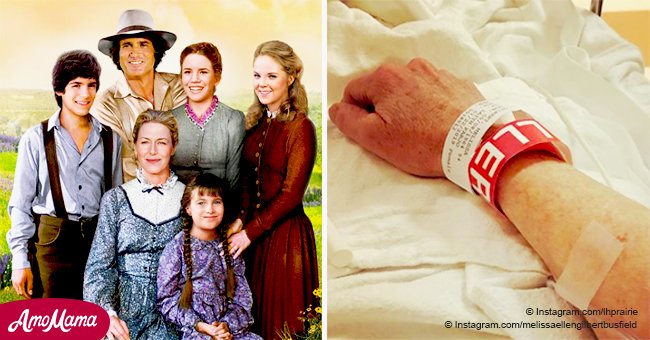 Beloved star from 'Little House on the Prairie,' Melissa Gilbert, undergoes surgery
Melissa Gilbert, best known for a popular 70s and 80s show, just underwent shoulder surgery.
On Tuesday, the longtime actress shared a picture of her arm with a needle in it. She looked to be in a hospital bed. The photo is found below.
Gilbert starred as Laura in the memorable show "Little House on the Prairie." The show started in the 70s and lasted until the 80s.
In the caption of the picture, Gilbert wrote:
"Time to fix my shoulder!! #tornlabrumsurgery #rotatorcuffsurgery #bonespursurgery #healing #letsdothis"
After her stint on the show, Gilbert remained in television. She had roles in "Gunsmoke," "Touched by an Angel," and "Batman: The Animated Series."
In 2012, Gilbert appeared on "Dancing With The Stars" where she placed fifth alongside Maksim Chmerkovskiy.
Hours after the surgery for her torn labrum, bone spurs, and a rotator cuff, Gilbert let fans know she was fine. She smiled brightly in another photo.
"Surgery done! Let the healing begin!"
With support from her husband Timothy Busfield, we're sure Gilbert will get through her recovery just fine. She and Busfield are in another honeymoon phase after all.
The pair enjoyed their third wedding celebration in December 2018. It featured unconventional colors for both the bride and groom. Gilbert wore a scarlet wedding tube top style gown while Busfield adorned a navy blue suit. Their first marriage was back in 2013.
In the caption, Gilbert wrote:
"Five years ago today, I married my collaborator, best friend, and inspiration. Because of him, I am living a dream I never even knew I had. Not only that but he's the funniest person on the planet. I am so blessed that we found each other. He is my beloved and I am his. Happy Anniversary Timmy!"
Gilbert is set to release the film "When We Last Spoke," later this year. We wish her an easy recovery.
Please fill in your e-mail so we can share with you our top stories!