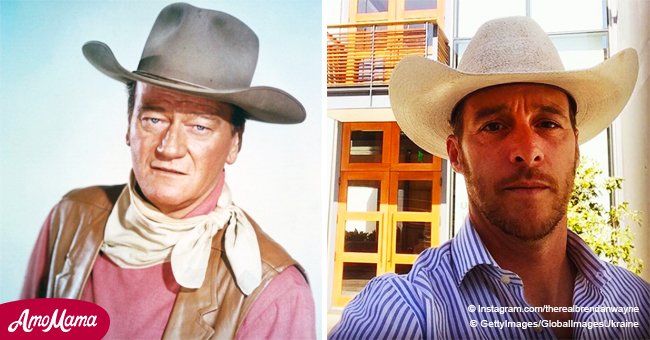 John Wayne's handsome grandson is 46 years old and he looks so similar to grandpa
Brendan Wayne, the 46-year-old grandson of Hollywood icon John Wayne, carries the same handsome looks as his grandfather.
Born as Daniel Brendan La Cava in Encino, California on February 8, 1972, Brendan joined the world of Hollywood as an actor and producer in 2008. He is the son of John's daughter - Mary Antonia Wayne - from his first wife, Josephine.
John's memory still lives on today most notably through his youngest child Ethan.
In 2011, Brendan co-starred in the sci-fi blockbuster "Cowboys & Aliens," which was directed by Jon Favreau.
Brendan's matured appearance has hardened his similarity to his legendary grandfather, who died on June 11, 1979, at the age of 72 due to cancer.
As reported by Daily Mail, John was usually private and polite. He played the action-man who could be shy with women on screen.
But behind the cameras, there was a different story according to the new book "John Wayne: The Life And Legend," by biographer Scott Eyman.
During a night of heavy drinking, a close friend asked John about his greatest sexual escapade.
The Academy Award-winner reportedly said: "Rome. The Excelsior Hotel. Dietrich. I took her on the staircase."
John starred in three films with Marlene Dietrich. Their relationship lasted three years. His romance with Maureen O'Hara lasted considerably longer.
The Hollywood's iconic cowboy was often accused of simply playing himself. But that wasn't quite true.
"I've played the kind of man I'd like to have been," he admitted.
The real John was a genial, straight-talking and humble man whose hot temper was usually reserved for directors who crossed him.
The star certainly wasn't perfect. But none of these weaknesses bothered John.
The real stain on his character, he said, was his failure to fight in World War II.
"The screen warrior's decision to put his career before his duty haunted him for the rest of his life. Anxious to make amends, he became a flag-waving, Right-wing patriot who alienated liberal Hollywood," Eyman said.
John may have epitomized rugged masculinity in his roles, but he had a feminine side too. He had the ability to guess a woman's dress size on sight.
His favorite reading matter were catalogs about the works of Arthur Conan Doyle and Winston Churchill.
John's memory still lives on today most notably through his youngest child Ethan.
After the demise of his dad, Ethan began doing stunt work. His first movie was "The Blues Brothers."
Ethan now manages John Wayne Enterprises. He also serves as the director of the John Wayne Cancer Foundation and created its Team DUKE fundraising program.
Please fill in your e-mail so we can share with you our top stories!