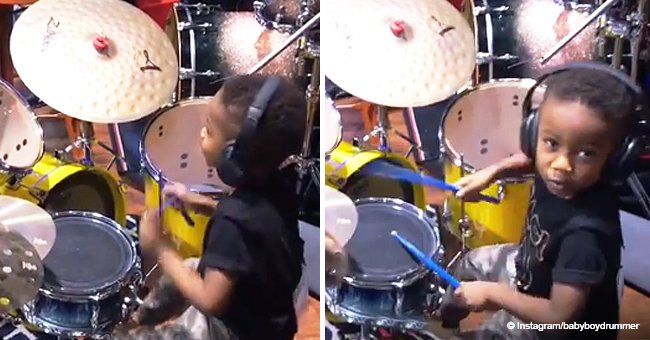 4-year-old 'baby boy' drummer draws attention with his drums skills in viral videos

A 4-year-old little boy stunned a large crowd after showing his insane drumming skills that make him seem as if he is way older than he really is.
Justin Wilson II or better known as LJ might look like your average 4-year-old toddler, but he actually has some mad drumming skills. As early as now, he is already being noticed by fellow artists and music lovers alike, after a clip of him drumming at the NAMM show over the past weekend went viral.
Clearly impressed by Justin's skills, people began commenting nothing but praises in the comment section of the video, asking him to keep up the good work.
"@dblej4life: OMG this kids has some power. Outstanding"
"@jtspeaks: @hespeaks_ that kid kills it. Can't wait to see what he does."
"@mariaufenton: It's so wonderful to watch him play. Bliss!"
Due to his new found fame, LJ has his own website that shares the story behind his love for music. According to the site, his love for music began even before he was born. His mom shared that when he was still in her womb, LJ would "tap rhythmically" when she would tap her fingers on her belly. The unborn child would also move when his mother would sing to him.
That is why when he was born, it came with no surprise that he was extremely fond of music. Of course, his parents gave their 100% support and got him his first drum set at 18-months old.
"By 13 months, he was keeping time to songs, banging his spoons at each meal. And by 15 months, he was able to identify and mimic unique syncopations and tinker on the piano in the correct key as a song was played. He got his drum set at 18 months and hasn't looked back."
Now that more and more people are hearing Justin's stellar drumming skills, he definitely has a bright future ahead of him as a musician, especially since as early as now, he can play beats that some adults find extremely difficult to play. Through continuous training, Justin can easily make his mark as the youngest drumming maestro.
Please fill in your e-mail so we can share with you our top stories!