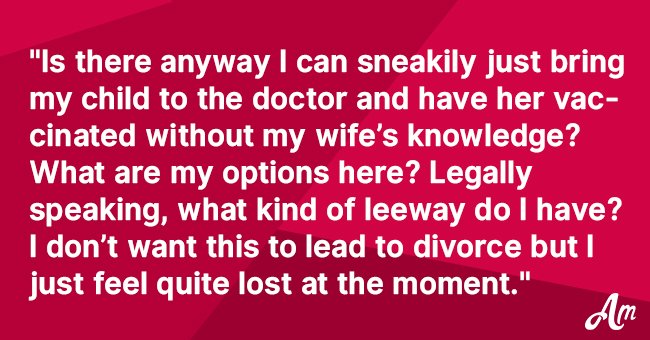 Inconsolable father turns to the Internet with his plea after wife refuses to vaccinate their kid

A desperate father took to Reddit to seek advice after his wife refused to vaccinate their baby. He pleaded with the internet for guidance.
Vaccinating one's child is often considered one of the most important things a parent can do to protect their health. However, for one father, the simple step to protecting his child seems impossible.
The Reddit user revealed his desperate situation: His wife refuses to vaccinate their baby. He begged internet users for advice on what to do.
Reddit user, PinkyStinky1945 and his wife have been married for three years. They recently welcomed their first child into the world.
He revealed that during her pregnancy a friend somehow managed to convince her that vaccinations cause debilitating diseases. She is now adamantly refusing to have their child vaccinated.
After trying to change her mind without any progress, he desperately posted a question onto Redditors. He asked about his rights as a father:
"Is there any way I can sneakily just bring my child to the doctor and have her vaccinated without my wife's knowledge? Shortly after birth (because this was pre-brainwashing) our child received her Vitamin K shot, and the Hep-B vaccine. However, now she's refusing to give our child any of the other vaccines.," he wrote. "I know that in her mind, she's coming from a place of love for our child but as you can imagine, this has caused a considerable amount of strain and we've had a number of arguments already."
Commenters responses simply said, "Go get your kid vaccinated immediately."
He went on to explain her rationale was not based on scientific research. However, like most anti-vaxxers, she was sucked into the fear mongering tactic they often use.
"Oh well if you look at this graph you'll see that the numbers of cases for X disease have risen alongside the increased use of Y vaccine," said his wife trying to justify her stance.
He apparently tried to reason with her that correlation doesn't equal causation. He also tried to provide information on infant mortality rates in developing countries and showed her that vaccinations have dramatically decreased those numbers. However, she dismissed the statistics claiming they were "created by think tanks funded by the government and 'big-pharma.'"
Besides parents fighting over vaccinating their children, some children of anti-vaxxers are now also looking for ways to get themselves immunized. Many found creative and innovative ways to get the shots they needed without parental consent.
Please fill in your e-mail so we can share with you our top stories!