Technical issues arose during the national anthem, but the crowd 'didn't miss a beat'
A recording of the national anthem failed to play prior to a high school girls' basketball game but that didn't stop people from singing it.
The magical moment took place on Friday, February 1, 2019, in Iowa, at a game opposing the North Polk and the Roland-Story teams.
It was quite a beautiful and unexpected spectacle, which has since been uploaded to the internet and shared with thousands of people.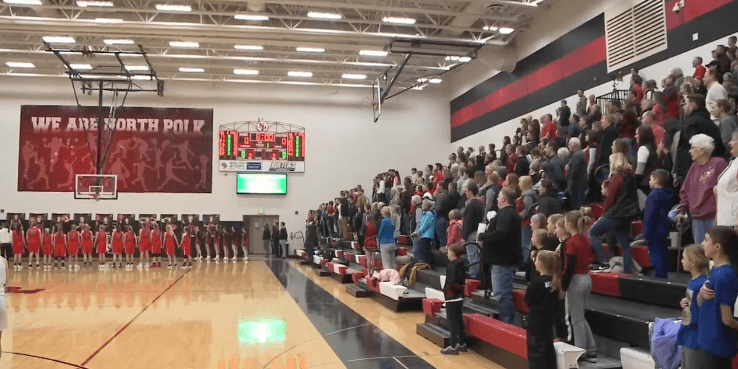 A BEAUTIFIUL RENDITION
It was a great example of patriotism and respect towards the National Anthem
The anthem was supposed to echo throughout the gym but, unfortunately, the recording didn't start. At that point, players, referees and even those in the stands began to sing.
The rendition of the "Star-Spangled Banner" hit all the right notes and was an amazing way to start the basketball match.
THE AMERICAN PEOPLE'S APPROVAL
It was a great example of patriotism and respect towards the National Anthem, as well as the story behind the lyrics known to millions of Americans, not only in the U.S. but around the world.
Those who watched the video online couldn't help but praise everyone inside the gym for standing up and singing with pride and honoring those who fought for the country.
A Facebook user named Lynn Lange even claimed that the anthem should always be sung, instead of the usual recording playing through the speakers.
GLADYS KNIGHT'S NATIONAL ANTHEM PERFORMANCE
Gladys Knight, one of the most iconic voices in the music industry, has recently bewitched Americans with her own rendition of the Anthem on Sunday, February 3, 2019.
The 74-year-old, and seven-time Grammy Award winner, kicked off Super Bowl LIII wearing a beautiful white dress and silver boots, as well as a headband.
After Knight ended her iconic performance, F-16 Fighting Falcons flew over the stadium in a choreographed formation, wowing everyone in attendance.
Weeks before her Super Bowl appearance, Knight confessed that it was an honor to sing at the event and that she wanted to use her voice to "unite and represent" the country in Atlanta, her hometown.