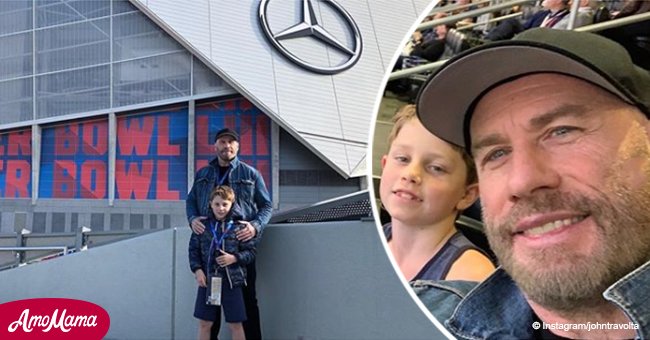 John Travolta shared sweet photos with his mini-me son and he's already so big

Hollywood actor John Travolta spent quality time with his son at the Super Bowl.
As seen in sweet photos the "Pulp Fiction" actor shared on Instagram, he and his eight-year-old son have a striking resemblance.
Travolta appeared with his family on the red carpet at last year's Cannes Film Festival.
"Happy Super Bowl Sunday!" Travolta, 64, captioned the post, which consists of a short clip and two photos.
The photo has gained more than 127,000 likes in just a day, with fans commenting about the father-and-son duo's similarities.
"John, Ben is adorable, looks just like you!" one fan commented.
"So beautiful both of you!" another adoring fan wrote.
DEATH OF SON JETT
The Golden Globe winner has three children, but his eldest son died after a seizure in 2009.
He shares Jett, his deceased son, daughter Ella Bleu, 18, and son Benjamin, 8, with actress Kelly Preston.
Jett, who had a history of seizures, died at age 16 while the family was on a Christmas vacation in the Bahamas. He also had autism.
Travolta created the Jett Travolta Foundation, a non-profit organization, to help children with special needs, in memory of his son.
The foundation has made contributions to various like-minded organizations like the Oprah Winfrey Leadership Academy, The Institute for the Achievement of Human Potential, and the Simon Wiesenthal Center.
HIS FAMILY ON RED CARPET
Travolta appeared with his family on the red carpet at last year's Cannes Film Festival.
He walked down the red carpet with his wife Kelly, daughter Ella Bleu, and son Benjamin during a photo call for his fil, "Gotti". He portrayed New York Mafia Boss John Gotti in the film.
The actor surprised with his changed look for the mafia-themed film.
His grey-haired looked is highly contrasting with his usual black hair, and this is a transformation he underwent in order to portray Gotti.
This is not the first time the actor assumed this hair color for a film. He lightened his hair to play a veteran car driver who goes back to the tracks for his film, "Trading Paint".
Please fill in your e-mail so we can share with you our top stories!