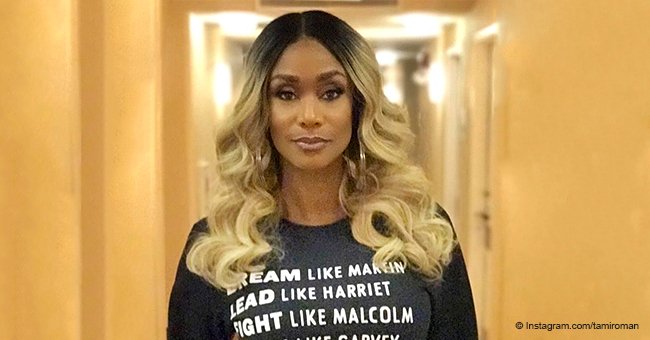 Tami Roman gains more love from fans after donning sweater with Black History Month message

Tami Roman, best known for "The Real World: Los Angeles," took to Instagram to share a photo wearing a sweater honoring Black History Month.
In the image, the lady appeared wearing black pants and a matching long-sleeved top with a message that served as a tribute to Black History Month. It read, "dream like Martin, lead like Harriet, fight like Malcolm, think like Garvey, write like Maya, speak like Frederick, educate like W.E.B., believe like Thurgood, challenge like Rosa."
For the caption, Tami set clear that one day their descendants would reap "immeasurable rewards" because they united, started respecting the struggle "honoring the sacrifice and memory of our ancestors.
As soon as the TV personality uploaded that photo, her followers took to the comment section to share their thoughts.
"That shirt speaking VOLUMES!" admitted one user.
"Amen. Yes. Blessings in this month of February. We must make our Ancestors proud," pointed out a second follower.
"Love it!! Gotta get that shirt!!!!" said another person.
BLACK HISTORY MONTH
February is recognized as Black History Month (also known as African American History Month) in the US and Canada, while in the UK, the Netherlands, and the Republic of Ireland it is celebrated in October.
It is a way to remember important people and events in the history of Black and African persons just like the ones included in Tami's sweater.
TAMI'S CHILDREN
Tami, 48, has two daughters who are involved in the entertainment industry, just like her mother. However, both of them took different paths. Her eldest child, Lyric Anderson, is a model while Jazz, Tami's youngest daughter, is a rapper.
In a pic Jazz shared to Instagram, she showed off her daring fashion style while rocking knee-high boots, ripped white pants and a printed sweater, standing in the middle of what looked like a retail store.
The photo set clear that Jazz not only inherited her mother's passion for being a celebrity but also her good looks. Her followers quickly took to the comment section to remark their uncanny resemblance, even labeling mother and daughter as "twins."
JAZZ' RISING CAREER
Jazz first appearance in a show was on "Basketball Wives" alongside her mother. Later, she had a short-lived participation in VH1's reality competition "Signed," where famous rappers and producers like The-Dream and Rick Ross worked side to side with unsigned hip hop artists.
The 22-year-old daughter of Tami and former NBA star Kenny Anderson has been working on her music career for years and has released several singles and a mixtape as an independent artist. She even signed a distribution deal with Empire and recently announced the release of her first project, titled "Separation Anxiety," on February 15.
Talking to LA Splash a few years ago, Jazz described herself as a "fresh new talent for a younger generation," but made sure to mention that she also has some songs that can attract older generations. "I'm able to switch it up which makes me diverse and something new," she added.
Please fill in your e-mail so we can share with you our top stories!