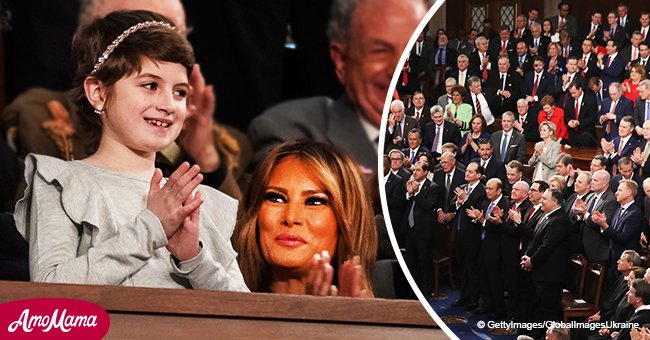 10-year-old girl who survived cancer steals the show sitting next to Melania at State of the Union
A special guest at the State of the Union address, 10-year-old Grace stole the show during the president's speech with her story of selfless courage and determination.
Through the years it became part and parcel for the president to honor a special guest during his annual State of the Union address, and this year was no exception.
Seated next to Melania Trump, the president addressed Grace Eline halfway through his speech:
"Tonight, I am also asking you to join me in another fight that all Americans can get behind the fight against childhood cancer. Joining Melania in the gallery this evening is a very brave 10-year-old girl, Grace Eline."
From New Jersey, the 10-year-old asked from an early age for birthday gifts in the form of donations to be made to St. Jude Children's Research Hospital.
In a twist of fate, Grace got diagnosed with a brain tumor when she was nine years old and got treated at the same hospital she had been sending donations.
Although Grace had a rare form of cancer, she received chemotherapy and got pronounced cancer-free in October. But her efforts didn't stop there as she held a "dance-a-thon fundraiser" on her 10th birthday to raise money for a charity that supports children with cancer.
President Trump continued his praise of Grace as he said:
"Every birthday since she was 4, Grace asked her friends to donate to St Jude's Children's Hospital. She did not know that one day she might be a patient herself. Grace recently finished chemotherapy and today shows no evidence of the disease. She is determined to help other children who are fighting cancer."
Donald Trump took a pause and looked at Grace before he said, "Grace you are an inspiration to us all."
President Trump address to Congress started on a note of unity, as he urged people to come together for the sake of the country as he said:
"There is a new opportunity in American politics if only we have the courage to seize it. Victory is not winning for our party. Victory is winning for our country."
A memorable comment from Trump later on in the speech is likely to draw a lot of attention in times ahead as he stated:
"If there is going to be peace and legislation, there cannot be war and investigation. It just doesn't work that way."
In laymen's terms, Trump meant that there couldn't be economic prosperity when the president is under investigation.
However, his talk about women in the workforce got many cheers from the Democrats, as a record number of women got elected to Congress in 2018. To the surprise of many, Donald Trump said:
"All Americans can be proud that we have more women in the workforce than ever before -- and exactly one century after the Congress passed the constitutional amendment giving women the right to vote, we also have more women serving in the Congress than ever before."
Turning to the matter of border security, Trump didn't bluntly state he would declare a national emergency if he doesn't get funding for his wall before February 15. But he did lay the groundwork of why he would if matters came to that and added why it is important to him:
"The lawless state of our southern border is a threat to the safety, security and financial well-being of all Americans."
Many of the women in Congress attended the State of the Union address dressed in white. Last week, Lois Frankel, chair of the House Democratic Women's Working Group and Florida Rep. urged female lawmakers to wear "suffragette white" to the annual event.
The color choice was in honor and as a political stance to re-enforce that women won't give up their "hard-earned rights."
Please fill in your e-mail so we can share with you our top stories!