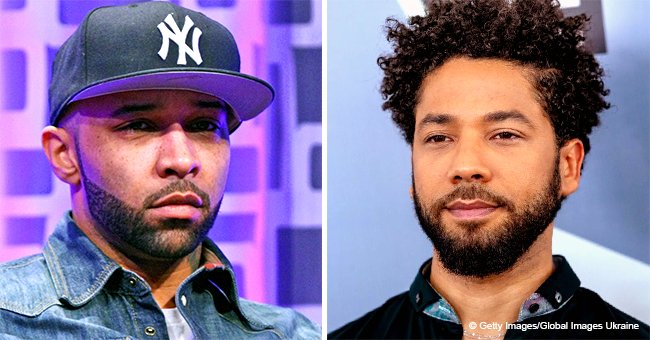 'I don't believe that,' Joe Budden speaks candidly, says Jussie Smollett attack was not hate crime

During one of his podcast episodes, Joe Budden candidly said that he doesn't believe the attack on Jussie Smollett was a "hate crime".
While many celebrities and fans from all over the world wished Jussie well after the gruesome attack on him last week, Joe Budden threw some shade at the whole ordeal by asking "When is the Jussie attack footage being leaked?"
JOE BUDDEN'S SPECULATIONS
During his show "State of the Culture," he made sure to expound on the tweet by sharing his thoughts about the attack. According to him, it is quite peculiar for the police to release a screenshot of a video instead of the entire clip itself. He also noted that Chicago PD chose to name these people "persons of interest" instead of "suspects."
Joe shared how he was glued to the Jussie attack story because he was amused by how the reports always changed about what exactly happened.
"I was glued to the news when this picture came out [...] Jussie's story sounds really funny. It's changed a few times. I'm gonna always have questions when a black man says that he gets a noose around his neck and then he tells me that he left it there for 45 minutes."
While he's not saying that the "Empire" actor wasn't attacked, Budden claims that he won't believe the incident was a hate crime unless the footage is released. As he tried to make sense of the situation, he said that it just doesn't add up that while walking to a Subway restaurant, he was randomly involved in a targeted hate crime.
"Subway?! What Subway in Chicago that tastes that great? I don't want to be that guy, but if the story comes out that he went to buy some bussy and got his [expletive] beat, I don't think what [they're] saying happened is what happened. I'm waiting to see footage."
Before ending his segment on the recent crime, Budden hinted that perhaps Jussie was involved in something that he shouldn't be involved in, and as a celebrity, they needed a way to cover things up wholesomely with something that people would never question - a hate crime.
JUSSIE SMOLLETT'S ATTACK AS TOLD BY THE ACTOR
After catching a late night flight from New York to Chicago to continue filming the last few episodes of "Empire," Jussie got hungry and decided to walk to a nearby Subway restaurant to get a midnight snack. Just a couple of meters away from his apartment, two masked men attacked him, leaving him with a bruised face and a rope around his neck.
Distraught and stunned, he made sure to call the police right away before checking himself into a hospital to get himself checked for the injuries he sustained from the attack.
THE ATTACK AFTERMATH
Support from celebrities and fans alike poured in from around the world, wishing Jussie a speedy recovery, strength, and justice. They also made sure to call out the perpetrators of such hate crimes, saying there is no room for that left in the world.
As for Jussie, for the first time since the attack, he appeared in public for his concert last Saturday, where he took the stage and showed his attackers that he was not going to stand down.
"I have so many words on my heart. The most important thing I have to say is thank you so much and that I'm okay. I'm not fully healed yet, but I'm going to. And I'm gonna stand strong with y'all… l will always stand for love. I will never stand for anything other than that. Regardless of what anyone else says, I will only stand for love. And I hope that you all will stand with me. So now… let's do it."
Please fill in your e-mail so we can share with you our top stories!