TSA agent jumps to his death at Orlando airport weeks after longest shutdown in USA history
A Transportation Security Administration officer committed suicide at the Orlando Airport in Florida last Saturday, and one of the people who knew him said it had something to do with the recent partial government shutdown.
Robert Henry, 36, died after jumping from the balcony of a Hyatt Regency Hotel located inside the airport, reports The Orlando Sentinel.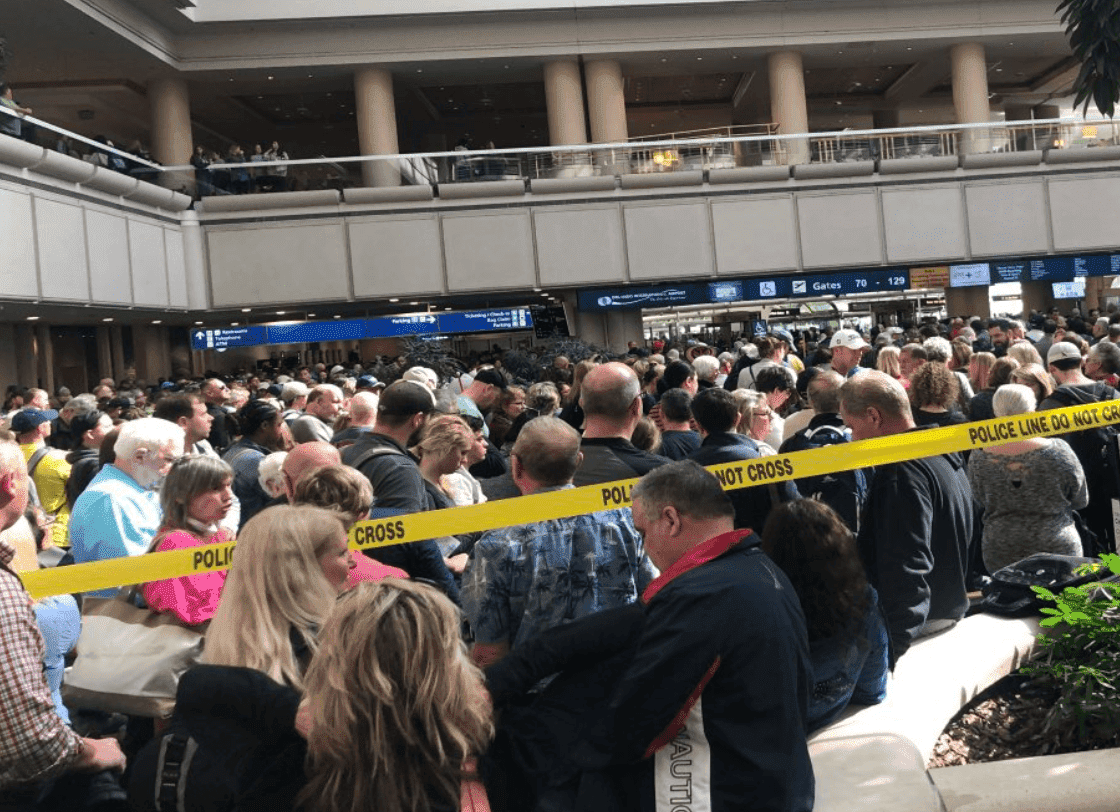 The tragic incident occurred not too far from two TSA screening areas which had to be shut down, resulting in chaos; panicked travelers running through security and massive lines when the checkpoint reopened.
Travelers reportedly said TSA workers told them to run through security and hundreds of people- including those already aboard their fight- were rescreened. About 100 Southwest flights were also canceled.
According to TSA spokeswoman Sari Koshetz, Henry had been an employee of the federal agency since September 2006 and was most recently assigned to screening checked bags at Orlando International Airport.
Within hours of the unfortunate incident, TSA leadership in Orlando provided grief counselors for its security officers, said Koshetz.
A look at the crowd at the Orlando International Airport after a man jumped from the upper level this morning. Everyone flying out of gates 70-129 will need to be re-screened. (Photo credit: Rasha Mubarak)

Full story: https://t.co/6DoMn1CvqF pic.twitter.com/kJo2Ni9ML4

— News 6 WKMG (@news6wkmg) February 2, 2019
THE SHUTDOWN EFFECT
TSA staff had just come off enduring more than a month of the partial government shutdown and the Union rep, Ralph Velez, is convinced that the hardships Henry experienced during that period played a role in his suicide.
Velez told Spectrum News 13 that when the union recently distributed gas cards to TSA workers who were working without pay during the shutdown, Henry expressed that the stress from the situation was getting to him.
I'm so sorry - All the hardworking HEROS who stayed at work during the insane shutdown are to be commended - w/o knowing any facts surrounding this tragity it can be said that stress from past & fear from threatened shutdown would add to the stress these fed workers face each day

— pauline (@PaulinaDingman) February 2, 2019
TRYING TIMES 
President Donald Trump called off the longest shutdown in US history on January 25. The shutdown lasted 35 days and saw more than $438 million worth of federal employee's mortgage and rent go unpaid.
In a report by VOX, one of the places where the highest number of people felt the effects of the shutdown was at the airport.
TSA confirmed that there was an unprecedented rise in the number of agents calling in sick, resulting in a lack of adequate staffing and security lapses.
Monday marked the 24th day of the partial government shutdown. Its effects continue to be felt nationwide, especially for federal employees who are having to work without pay, such as those at airports: https://t.co/Uqynkt1uJJ

— Spectrum News 1 Texas (@SpectrumNews1TX) January 14, 2019
It was so bad that a passenger went through security to board a plane with a loaded gun and had to report himself to the authorities before it was discovered.
Velez has reiterated that the tragic death of Henry makes it more important to remind DC lawmakers that another shutdown doesn't happen, as the president threatened.
The National Suicide Prevention Lifeline is 1-800-273-8255. Other international suicide helplines can be found at befrienders.org.