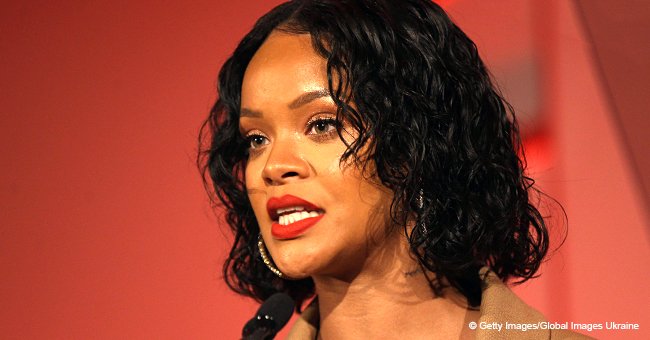 Rihanna throws shade at American Airlines passenger for watching The Super Bowl live in flight
Rihanna shared a clip of her bored look on a flight to New York as a fellow passenger she branded a "weirdo" watched the live telecast of the Super Bowl. Colin Kaepernick approved.
Rihanna took her disrespect for the Super Bowl a notch higher after she shaded a passenger on a flight who was watching a live telecast of this year's match.
It was clear Rihanna didn't intend to be one of the millions who tuned in last weekend to watch the Los Angeles Rams compete against the New England Patriots who eventually won the title.
The singer was on an American Airlines flight from Los Angeles to New York at the time but she did notice passengers catching the game on live telecast during the flight.
To her dismay, Rihanna took to her Instagram story to throw shade at one of the passengers seated a few rows behind her.
In the first clip she shared, she showed her bored reaction listening to the passenger asking the flight crew how he could watch the live Super Bowl telecast from the plane.
Her next video showed a portion of the head of the man watching the game and she branded him with the word "weirdo" floating over his head.
Later, she posted a photo of Colin Kaepernick on bended knee and wrote,
"for those of you who thought I was watching super bowl…we beefin."
Kaepernick acknowledged Rihanna's support and reposted her story while writing,
"I really appreciate ‪@rihannakeepin it [100 emoji]"
To understand where Rihanna's angst over the Super Bowl is coming from, here's a recap.
Back in 2016, NFL player Kaepernick decided to kneel during the singing of the National Anthem as a form of protest against racial injustices and police brutality. His behavior encouraged others to do the same, earning the ire of Donald Trump who condemned it. This prompted the NFL to ban kneeling during future games.
Kaepernick took a hit when he found himself unsigned by any NFL team since 2017. This prompted celebrities, one of them Rihanna, to boycott the 2019 Super Bowl to lend him support. As a result, she declined a request for her to sing during this year's half-time show.
Maroon 5 and Travis Scott ended up providing the entertainment this year. Scott's acceptance became controversial and Maroon 5 performed to a generally displeased crowd.
This year's Super Bowl which returned to Atlanta after 19 years earned a historic low in terms of ratings. It drew a 44.9 rating, the lowest since 2009. It also registered a 5 percent drop from last year.
Please fill in your e-mail so we can share with you our top stories!