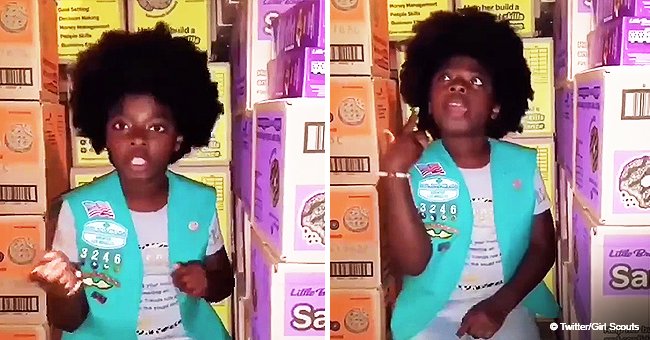 10-years-old scout girl doubles cookies sales performing Cardi B rap parody and goes viral

The 10-year-old Girl Scout who showed off her stellar rapping skills by belting out her own remix to a Cardi B song has doubled her cookie sales much to her delight.
With Girl Scouts of the USA having chapters in almost every state, it's common for little girls to knock on their neighbors' doors to sell their cookies. When a 10-year-old girl named Kiki Paschall was not satisfied with her neighborhood sales, she thought of a way to attract more people to buy her goods.
After some brainstorming with her mom, they decided to make use of Kiki's mad rapping skills and composed lyrics that she could rap to the beat of Cardi B's hit song "Money."
Her supportive mother, Shania Accius, filmed her daughter belting out the lyrics to the song, which she posted on social media. After the Girl Scouts of the USA official Twitter account shared her piece of work, it soon went viral garnering millions of views and thousands of reactions.
Since then, she has been recognized by "Good Morning America," and yes, Cardi B herself, who said she wants "all the cookies."
With orders pouring in from all over the country, the Girl Scouts account had to redirect the interested buyers to scouts who were selling the same cookies in their own areas. Lucky for Kiki, a lot of her customers were in California, and she was able to accommodate more than a thousand of them. In fact, she gained so many supporters that from her goal of having 500 boxes of cookies sold, exceeded it by 1000.
As for how Kiki feels with all the attention and love she's been getting from people around the world, her mom says:
"This moment, she'll never forget. She is loving every second of it."
Please fill in your e-mail so we can share with you our top stories!