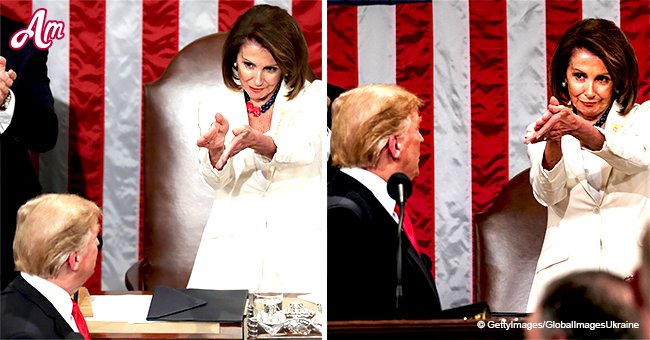 Nancy Pelosi breaks the Internet with weird clapping in Trump's ears, goes viral on social media

Nancy Pelosi became the center of several hilarious memes when she "troll-clapped" President Donald Trump at the State of the Union address.
The Democratic speaker of the house gave meme creators golden material during the event held on Tuesday night. One person deemed the now viral picture the "photo of the century."
As President Trump delivered his second State of the Union speech, there was applause throughout. At one point, the speaker made it strongly known that she was clapping too.
A clip showing Pelosi's extended arms as she clapped for Trump has been shared online by many. At one point, Trump turned and looked at Pelosi. She gazed directly back at him with a sly smile.
People praised the moment, calling it "epic" and a "mood." Some said Pelosi was simply clapping because the speech was nearly finished.
Several persons were quick to call it first. One person said: "Imagine the amount of memes we're gonna get with Nancy Pelosi clapping like this."
They were quite right as there were several. Some of the memes were totally unrelated to any politics, giving them a more unique humorous angle.
In addition to Pelosi's "troll-clapping," people also made fun of the speaker's expressions during the speech. Numerous persons pointed out how Pelosi appeared to go through a transcript of the address.
One conservative named Jim Geraghty seemed to be unsupportive of the occurrence. He said that he was unaware it ever happened in the past.
Pelosi's variety of expressions seemed to trigger a few people. One person insisted she was "struggling" somehow due to her changing facial looks.
Trump denied Pelosi from making the traditional introduction of the president for the event although the pair did shake hands before the speech began.
However, Trump wasted no time and didn't wait for Pelosi to introduce him at the start. CBS News White House correspondent Steven Portnoy described it as "very strange."
During his speech, Trump spoke about border wall security at the US-Mexican border. Furthermore, he touched on the Russian investigation. He indirectly claimed that the latter is not consistent with gaining unity and thus a victory for all of America.
Even after the 35-day government shutdown that furloughed over 800,000 federal employees, Trump deemed the lack of a border wall a "threat to the safety, security and financial well-being of all Americans."
To some, this implied that Trump is still willing to declare a state of emergency in order to get the wall built.
Please fill in your e-mail so we can share with you our top stories!