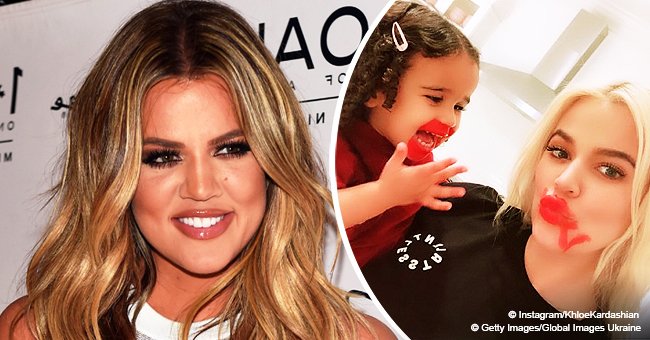 Khloé Kardashian has her makeup done by niece Dream
Khloé Kardashian is spending some quality aunt-niece time with Dream Reneé, Robert, and Blac Chyna's daughter, and it seems like the little girl is a makeup artist on the making.
Dream is definitely a Kardashian and her love for makeup proves it. It seems like the 2-year-old girl is following her aunts' steps, enjoying the benefits of a good lipstick, and she decided to try her skills on her aunt, Khloé.
The "Good American" designer took to her Instagram stories on Wednesday, February 6, to share several videos having a lot of fun with Dream. In the clips, the toddler is generously applying some red lipstick from Khloé's latest collaboration with BECCA Cosmetics all around her mouth.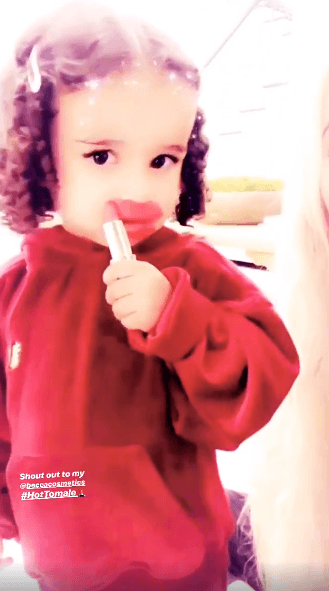 Dream applied a bit too much lipstick. | Source: Instagram/KhloeKardashian stories
"Wow. I think you have enough on, mama," Khloé says amused, and then Dream proceeded to apply the lipstick on Khloé's mouth instead.
Dream did a pretty good job at drawing between the lines of her aunt's lips, and she showed off her niece work to the camera, making kissy faces.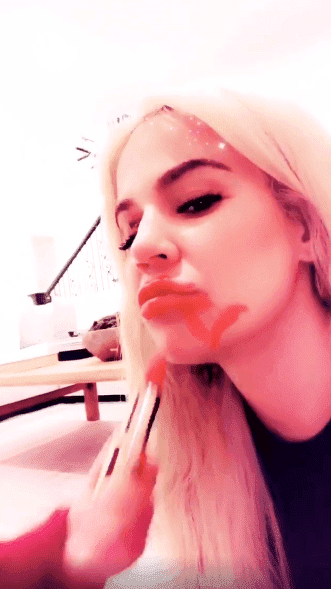 Dream practiced her makeup skills on aunt Khloé. | Source: Instagram/KhloeKardashian stories
Then, she notices an empty spot on one side of her mouth, but when she points it out, Dream graciously applies lipstick on Khloé's chin, earning a good chuckle from the reality star. Khloé then snapped a pair of pics, showing off her and Dream's matching messy lipstick.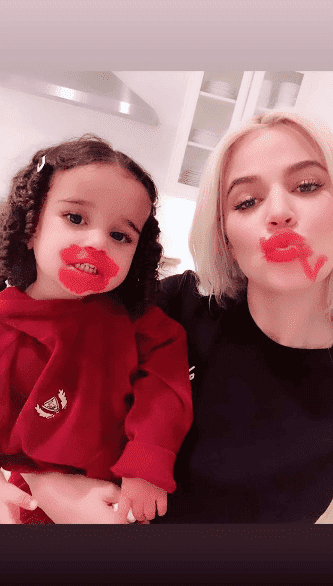 Dream and Khloé try a lipstick from the Kardashian's new collection. | Source: Instagram/KhloeKardashian stories
The little girl seems to love hanging around with aunt Khloé and baby cousin True.
Last month, Khloé melted hearts when she shared some pics from a trip she did to her local fire station with Dream and True in tow.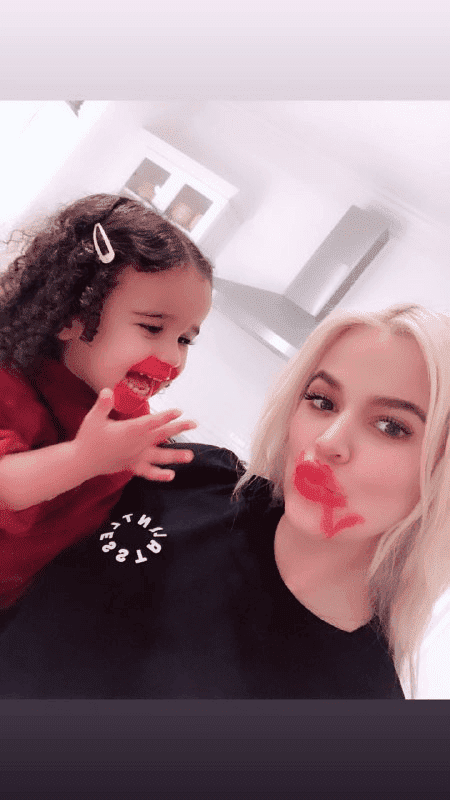 Dream clearly had a great time with Khloé. | Source: Instagram/KhloeKardashian stories
Dream rocked yellow overalls over a long-sleeve black tee, leggings, and white sneakers. Baby True, on the other hand, looked adorable wearing a pink sweater and tutu, boots, and a unicorn headband.
The duo looked happy as they sat at the front end of a firetruck and later hanged out inside one. They took over the driver's seat, as baby True took command of the steering wheel while Dream smiled at her side.
Dream Kardashian on a truck's front bumper. | Source: Khloe Kardashian/Instagram Stories
"Yesterday we took the girls to our local fire station," Khloé, 34, wrote on her Instagram story. "We wanted to say 'Thank you' to our local [heroes] for all they do for us!"
And added:
"[True and Dream] drew cards and brought cookies for their visit. They loved every moment! Thank you to ALL of our brave service men and women."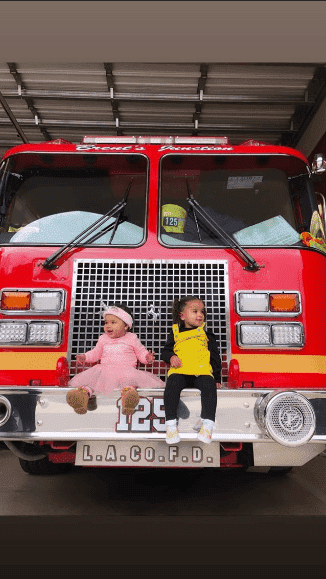 True Thompson and Dream Kardashian were all smiles at the fire station. | Source: Khloe Kardashian/Instagram Stories
While Dream is described as a happy little girl, her parents are still making headlines as they fight over the wellbeing of the toddler. Blac Chyna seems to be busy partying around with her new younger boyfriend, and according to reports, Robert Kardashian is worried about Chyna's ability to take care of their daughter.
"Rob always wanted Dream to spend time with her mom, too," a source close to the family told People. "He has never wanted Chyna to be cut out of Dream's life. … But he also doesn't want Dream to be raised by a nanny while her mom is off partying out of state."
Rob's family, the source continued, just wants what is best for baby Dream. Maybe that's why Khloé has become such a dotting aunt with the adorable curly haired girl.
Please fill in your e-mail so we can share with you our top stories!