Michelle Obama responded to her husband Barack with a sweet throwback photo on Valentine's day
Michelle Obama called herself "lucky" in a Valentine's Day message to Barack and shared two beautiful pictures of their family.
Barack and Michelle publicly show their affection for each other often, especially on birthdays, anniversaries and of course, Valentine's Day.
Earlier in the day, Barack sent his "extraordinarily smart, beautiful, funny, one and only" a sweet message. The former First Lady soon sent Barack a Valentine message that highlighted the couple's life as a family, as she posted two throwback pictures to Instagram and later shared it on Twitter as well.
Officially the world's most admired woman, Michelle captioned the two snaps:
"So lucky to call these three my valentines for all these years."
In the first picture, taken in 2004, Michelle and Barack had their two daughters with them and marked the night Barack won a seat in the US Senate, long before his presidential days.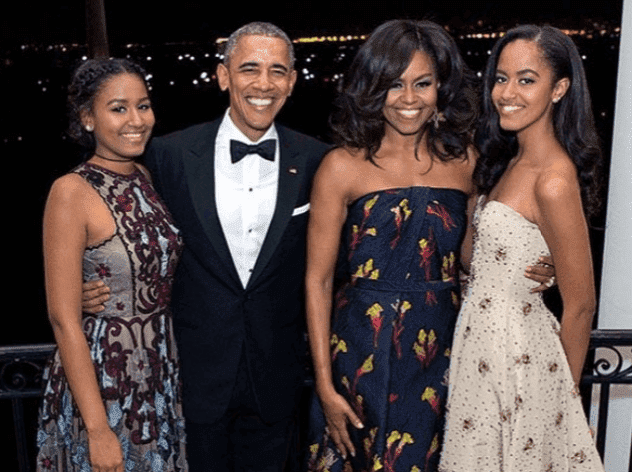 The second picture shows the unique family of four many years later, with Malia and Sasha all grown up. From sitting on their laps to standing tall next to their parents, 20-year-old Malia and 17-year-old Sasha looked gorgeous.
The picture taken in December 2016, showed the Obama's during their last Christmas in the White House. Comments from fans soon streamed in as one follower sent happy wishes on this widely celebrated day:
Happy Valentine's Day to you and your beautiful family. We miss your love for all of us. ❤❤

— kim seaver (@kim2grls) February 14, 2019
Another fan took the opportunity to thank Michelle for being a role model and wrote:
Thank you again for your book, your vision, your presence as a role model for countless Americans many of whom you may never meet but nonetheless are affected deeply by your positive influence. You are an icon!

— Aaron Reid (@reidaa31) February 14, 2019
Messages between Barack and Michelle often go viral, like when Barack's post to Michelle on her birthday last month got over 1 million likes. 
During Sunday's 61st Annual Grammy Awards, Michelle made a surprise appearance right at the start of the ceremony.
Host Alicia Keys welcomed Michelle Obama, Jada Pinkett Smith, Lady Gaga, and Jennifer Lopez on stage where the women spoke of the importance of music and what it meant to them. 
At the beginning of Michelle's speech, she said, "From Motown records I wore out on the Southside..," and received a standing ovation by the time she finished. In Barack's Valentine's message to the love of his life, he also referenced Motown.
In 2015, while still in the White House, Michelle stunned and delighted fans when she rapped a song on "Saturday Night Live" to encourage young adults to go to college.
Michelle's memoir, "Becoming" flew off the shelves as over 1.4 million copies got sold within the first week of its release in November 2018. Since it's release, Michelle went on an extensive promotional tour where she met and inspired countless people with her book and outlook on life.
So it comes as no surprise that Michelle was named as the most admired woman in the world. According to Gallup's annual survey, published on December 27, 2018, the former First Lady moved up a spot after she spent the last four years in second place.