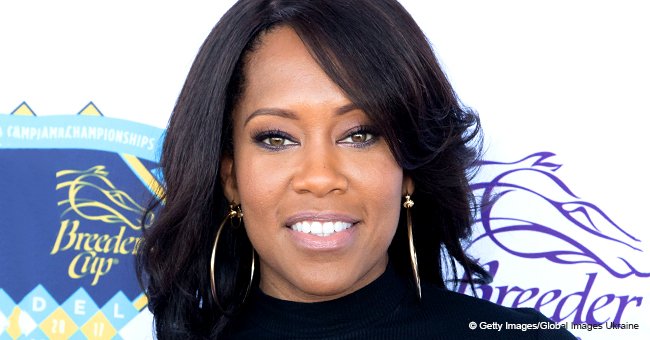 Regina King was nearly crushed while sitting courtside at NBA game
Regina King, who recently received her first ever Oscar nomination, narrowly missed being crushed at a basketball game on Wednesday. The frightening moment was caught on camera below.
The Hollywood actress was sitting courtside at the Madison Square Garden, watching the NBA game between the New York Knicks and Philadelphia 76ers, when one of the players went after a loose ball in her direction.
Philadelphia 76ers center Joel Embiid, who according to Sports Illustrated is 7-foot and weighs 250-pound, was trying to save a ball from going out of bounds when he charged into the crowd.
"I'm making a vow and it's going to be tough..." ~ Regina King
Embiid, 24, was headed straight for King but leaped just in time to hit her braided bun and crash into the statistician behind her.
Luckily, the statistician was not injured during the collision and even did a joint post-game interview with Embiid, reports Fox News.
A clip of the near-collision with King, 48, was posted to social media by Twitter user Rob Perez who captioned it:
"Regina King's life just flashed before her eyes."
Another footage captured from a different angle was shared by The Crossover and shows Embiid flying in the air and landing in the statistician's lap.
"It's good that I saved her life, I guess, but someone else had to, like, take that. I'm sorry about that."
The "Seven Seconds" actress couldn't help tweeting about the incident. She thanked Embiid for not colliding into her and maybe putting that Oscars appearance in jeopardy.
"Yoooo. Thank you, God and @JoelEmbiid for your athletic abilities. Crisis averted," she wrote.
On February 24, King may get to leave the 91st Academy Awards as the "Best Actress in a Supporting Role" for her character in "If Beale Street Could Talk." In the movie, she plays the mother of a pregnant young woman whose boyfriend is accused of a crime.
King bagged the "Best Supporting Actress" award for the same role at the Golden Globes last month, and should she win "Best Actress in a Supporting Role" at the Oscars later this month, fans can look forward to another inspiring speech.
In her Golden Globes acceptance speech, King, who is also a film producer, made a solemn vow:
"I'm going to use my platform right now to say, in the next two years, everything that I produce — I'm making a vow and it's going to be tough — to make sure that everything that I produce is 50 percent women."
Please fill in your e-mail so we can share with you our top stories!