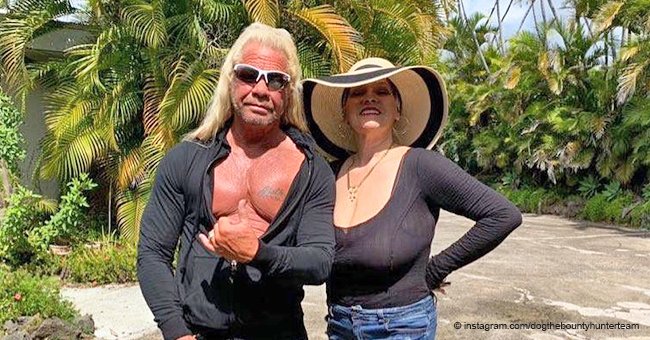 Duane and Beth Chapman shared a sweet photo from their 'paradise' home

"Dog The Bounty Hunter" stars; Duane and Beth Chapman gave us a sneak peek into their Hawaii getaway trip in a recent post on their social media account.
In the picture the hot couple can be seen soaking up the sun, they were standing close to some palm trees; Beth was rocking a cropped top, jean shorts, and a big hat while her husband wore an all-black ensemble.
The caption to the image was:
"Aloha from Honolulu from Dog and Beth."
The loveliness of the picture can be felt through the screen; it is no wonder that the fans of the couple went to the comment section to express their love and admiration.
"You guys are the meaning of true love I've watched your show for many years, and I have loved you guys forever. Beth is always in my prayers big big love from Dublin Ireland" — one fan wrote.
While another wrote:
"You both are very inspiring, keep it going! I love you guys!!!".
The couple seemed to be having a lot of fun at their vacation site, but something really unfortunate happened. They lost a member of their show; "Dog The Bounty Hunter- Dog Pound," after a long battle with cancer.
Beth revealed that Tammy Lowery had passed away this week, she announced the sad news on her Twitter account, posting a picture of Tammy wearing an oxygen mask.She tweeted:
"We lost a beloved #DogPound member Tammy Lowery was a loyal friend & amazing person she fought a long hard fight and never complained she will be missed by all her Dog Pound friends & by @DogBountyHunter & myself we love you honey RIP."
Many fans responded with their condolences, while some admirers who knew her, referred to her as an awesome person.
"She was such a sweet person, definitely will be missed by all of us #DogPound members,"
one fan commented.
Beth Chapman has also been open about her health journey; she has had some struggles with a recurring cancer tissue in her throat.
She revealed that during surgery, doctors found cancer in her throat, which she fought to remission in 2017 but has reappeared and spread to her lungs.
Beth started chemotherapy in January and even posted a selfie with the hashtag #cancersucks #stayhumblepray and #itsonlyhair.
In a recent post on her social media, the 51-year-old actor looked stunning, and her fans commented on how healthy and beautiful she looked.
Please fill in your e-mail so we can share with you our top stories!