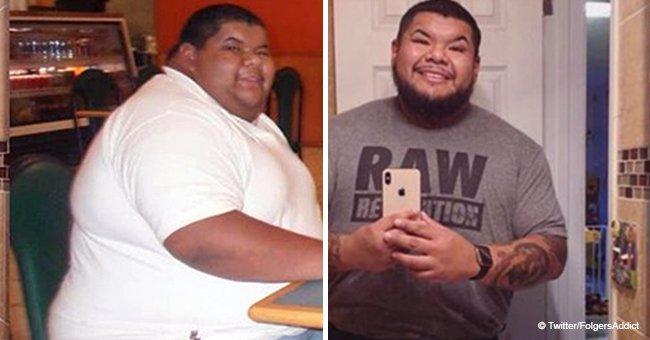 After doctor said man's weight might be fatal, this man made simple changes to lose 200 pounds

19-year-old Jose Rodriguez made a decision that changed his life forever after a doctor advises him that his weight was already becoming a danger to his health.
Rodriguez played for the football team in his high school. Then, he only weighed 240kg. His weight gave him an edge over his fellow teammates, as tackling them became easy, so, he was okay with it. Besides, he thought he would eventually lose weight.
Then came graduation, and shortly after, an accident occurred, which changed his life. He had a motorcycle accident which he didn't get over, and as such, fell into depression, and that, led him to gain more weight.
He said:
"I fell into a depression. I was eating and eating, and I was 505 pounds. In my head, I was 230, 240 pounds,"
He was 5 feet 7 inch tall, and he just kept adding more weight.
A doctors appointment turned his life around for the better. The doctor warned that his weight was doing more harm to him than good, and if he didn't do something about it, it could be a lot worse.
Rodriguez, 20 at the time, said:
"He told me if I continued down this path, I wouldn't make it to 21 or 22 [...] That was eye-opening for me"
From that day onwards, he decided to do things differently. He started walking around more, even though it was just around his couch at first, then to walking around his house.
That is to show that change no matter how small, can go a long way. Just one month of walking around, and he lost 15 pounds. After noticing these changes, he started improving his diet. From whole milk to 2% milk, and regular soda to diet drink.
A cousin then suggested that he join a gym, and his siblings decided to enroll with him, to serve as motivation. They kept him going. During his fitness program, he was able to cut out other habits, like reducing the number of chips, cookies, and honey buns bought.
A year went by, and he lost a whopping 100 pounds. As of 2017, Rodriguez slowly lost weight and was working towards building muscle and getting stronger.
Now, he has lost 200pounds, and focuses more on a healthy diet, with vegetable and grain addition, and trying to visit the gym five times a week.
Please fill in your e-mail so we can share with you our top stories!