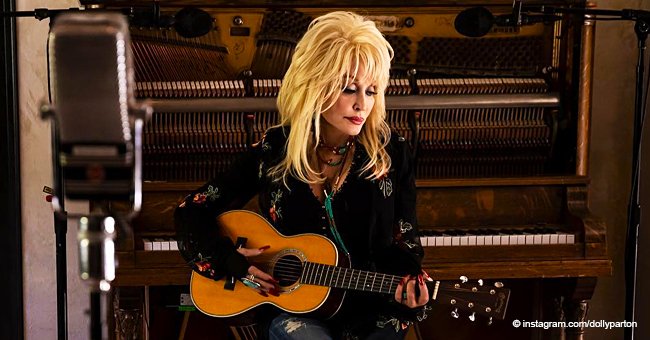 Dolly Parton 'Heartbroken' over Death of Legendary Fred Foster Who Launched Her Career
Legendary record producer Fred Foster passed away on Wednesday, and Dolly Parton took to social media to pay tribute to the man whom she "will always love."
The Nashville legend born on July 26, 1931, helped launched the careers of among others, Roy Orbison, Kris Kristofferson, Willie Nelson, and Dolly Parton.
The founder of Monument Records and visionary record producer died on Wednesday in Nashville after a short illness aged 87.
In 2016 Fred Foster's career as a label owner, producer and songwriter got celebrated when he got inducted into the Country Music Hall of Fame.
Dolly Parton attended the event and described Foster as the man who "saw things in me that nobody else did," but also gave him credit for her success as she said, " You started my life with my first record."
In tribute to Foster's 60-year long career, Dolly posted a scripted image on Instagram:
Monument Records, founded by Foster, released Dolly's first hit single, "Dumb Blond," in 1967. Foster also produced a number of Roy Orbison's best-known hits from the early sixties like "Pretty Woman," "Only the Lonely," "Blue Bayou," and "Running Scared. Also released by Monument Records was Kris Kristofferson's 1973 pop hit, "Why Me."
The CEO of The Country Hall of Fame also posted a tribute to the late Fred Foster, as the music world and all who knew him mourn the loss of this great soul and talent:
Other artists signed to the record label included Ray Stevens, The Gatlin Brothers, Jeannie Seely, Charlie McCoy, and Boots Randolph.
In 1990 Foster sold all his companies but kept on producing until 2018 and included his last production for Dawn Landes, "Meet Me At the River."
Proud of his accomplishments throughout the years, Foster told the Tennessean in 2016:
"Musically I'm most proud of the relationships I had with the songwriters, artists, and engineers. These people are responsible for me being here. I didn't do it by myself."
The same year Foster received a Trustees Award from the Recording Academy, while he joined the Musicians Hall of Fame years ago in 2009.
Dolly Parton's hit single, "Dumb Blond" was the first of many, after all, she brought out a 99-song box set released in 2009 featuring all her songs spanning over five decades.
Till date, "Dumb Blonde" is among her most favored hits of all time, along with "Jolene" which is one of her epic songs known worldwide by young and old whether you are a country fan or not.
Some might argue that "My Tennessee Mountain Home" is one of her greatest songs of all time, while others may argue it was "9 to 5," but whatever your flavor, Dolly has something for everyone in her songs.
None the less, fans worldwide are grateful for her music, and to Fred Foster for all his contributions to the music industry and in the lives of many throughout his career.
Apart from Dolly's success in singing and acting, she received a lot of attention throughout the years regarding her physical appearance, her sexuality and everything else the tabloids could get their hands on.
But her personal life, especially her relationship with her husband, Carl Thomas Dean remain private; however, Dolly has a good reason for it.
Please fill in your e-mail so we can share with you our top stories!