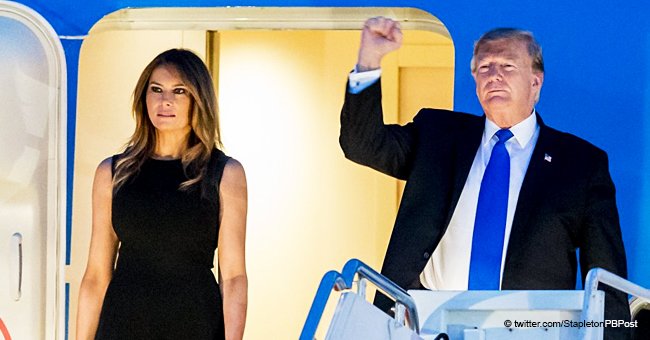 Here's how Trump's acquisition of Mar-a-Lago Led Him to a Presidency, Author of a New Book Says
Described as the White House winter home, Mar-a-Lago is said to be much more than just a favored privately owned retreat, according to author Laurence Leamer.
The author published and recently listed his book about Donald Trump on Amazon. Titled "Mar-a-Lago: Inside the Gates of Power at Donald Trump's Presidential Palace," Laurence refers to his release as "an essential book for understanding Donald Trump's inner character.
The book features several reporting and interviews with people inside Mar-A-Lago, where Laurence said Trump "learned the techniques that took him all the way to the White House."
According to the author, the key to understanding Donald Trump lies in his acquisition of Mar-a-Lago in 1985. Since Trump took up office Laurence had talks with numerous insiders and added:
"I realized how important Mar-a-Lago and Palm Beach [were] to [Donald's] development."
Having lived there himself for 25-years, Laurence called the Palm Beach community the most "socially intimidating place in America," and Donald Trump was not welcome.
When Donald first put in an offer on Mar-a-Lago, it got rejected. He wanted to turn the property into a series of mansions, and the town did not approve.
In true Trump style, he responded by purchasing the beach in front of Mar-a-Lago. With talks of building on his newly acquired beach, it drove down the market value of Mar-a-Lago.
Trump's original rejected offer was $28 million, but after he drove the property price down with the beach he bought, but eventually paid a mere $5 million but added $3 million for Marjorie Merriweather Post's original furnishings.
Marjorie, as the founder of General Foods, is the one that gave us Jell-O and Birdseye frozen vegetables, and during the 1920s she was the richest woman in the US. Mar-a-Lago was the product of the heiress's vision when she had the 128-room mansion built in the 1920s.
For years after Donald Trump bought Mar-a-Lago, he clashed with the neighbors. Several attempts to make changes to the property would get turned down until he eventually announced turning it into a private club.
To Laurence, there is a distinct correlation between how he went about his dealings regarding Mar-a-Lago and the way he ran his presidential campaign in 2016, as she said:
"He used all these techniques, he learned all these techniques, taking on what he thought was a corrupt establishment. He beat them. He used those same techniques to become president of the United States."
When Trump clashed with the community in Palm Beach his verbal antics was "unheard of" among the proper and sedate Palm Beach elite as Laurence elaborated:
"He took these people on. … It's such a sedate, proper place. You go with your hat in your hand to go to town council, and you're very polite. He just stood up to them … didn't back down, no matter what. It's just the way he ran for president."
Trump's frequent visits to Mar-a-Lago receive criticism for mixing private and political interests, like the incident in 2017 when he received the Japanese prime minister at the private club and discussed matters of national security. Matt Dallek, a presidential historian, told the Washington Post in 2017:
"It's like he's touting his own private enterprise and using the vast reach of the presidency to promote a particular brand and enrich his family."
Among the flurry of issues that made Donald Trump headline in recent days, the one which probably confused Americans the most was his announcement on February 12. Trump suggested a 4th of July parade that he hopes will become "tradition."
Please fill in your e-mail so we can share with you our top stories!