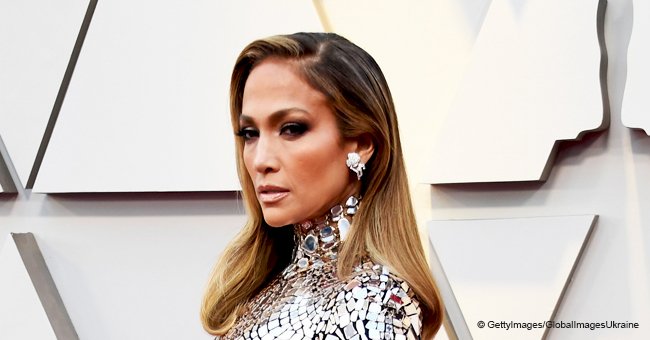 Jennifer Lopez Shows Stunning Transformation as She Goes from Makeup-Free Cutie to Glamorous Diva
Jennifer Lopez shared the process she goes through from bare-faced beauty to full-glam dive.
Glamour queen Jennifer Lopez gave fans a glimpse of what it takes to create her flawless look.
"Jenny From The Block" shared a clip on Instagram of herself getting ready for the Oscars on February 24, 2019.
"When I think of the Oscars I think of J-Lo!"
GETTING READY FOR THE BIG NIGHT
Have you ever wondered what it would be like to get ready for the Acadamy Awards red carpet? Lopez revealed all. In the clip, the star presents herself with no makeup, and with her hair wet and unstyled.
J-Lo first shows off her gown for the evening: a shimmering long-sleeved, high-neck sheath covered with glittering mirrors.
J-Lo follows Kylie Jenner's example and contours outside her lip line
THE TRANSFORMATION BEGINS
J-Lo is surrounded by her "A-Team" and while her hair is being styled, her perfectly manicured nails are being buffed. The makeup artist begins the process that will transform the fresh-faced Lopez into the queen of the red carpet.
JENNIFER LOPEZ REVEALS THE SECRET TO HER LUSCIOUS LIPS
The actress' flawless skin is enhanced with a base, and her delicate features contoured. Then her dark eyes are dramatized with dark shadow and eyeliner.
Her lips, are contoured and then filled in with lipstick. The secret is out: J-Lo follows Kylie Jenner's example and contours outside her lip line for a fuller more luscious look.
A PERFECT EXAMPLE OF OLD HOLLYWOOD GLAMOUR
The star takes a hand in her preparation, adding more eyeliner and eyeshadow to make the look her own.
She then puts on a pair of stunning diamond earrings, and "Voilá!" Next Lopez appears clad in her mirrored gown that hugs every curve. She stands before a white screen for some glamour shots before heading out for the big night on the arm of a dapper Alex Rodriguez.
J-Lo's beau also posted a vid of himself getting ready for the Academy Awards, putting on his elegant white tux jacket - a fitting consort for the queen of red carpet glam.
JENNIFER LOPEZ DAZZLED AT THE GRAMMIES
Just two weeks ago J.Lo and A-Rod stepped out for the 2019 Grammy Awards on February 10, 2019.
The always glamorous Lopez wore a bold white wide-brimmed white hat trimmed with plenty of bling and a long, slinky white dress that hugged all her curves.
Her long blonde hair was styled into a long ponytail that reached her waist and emphasized the dress' sensual back slit trimmed with chains of bling.
Not to be outdone, Rodriguez, 43, donned a daring and unusual tie-dyed hot pink and emerald suit teamed with a crisp white button-down shirt and bow tie.
In a related story, Jennifer Lopez hit the red carpet in a sparkly silver gown at the MTV VMAs.
Please fill in your e-mail so we can share with you our top stories!