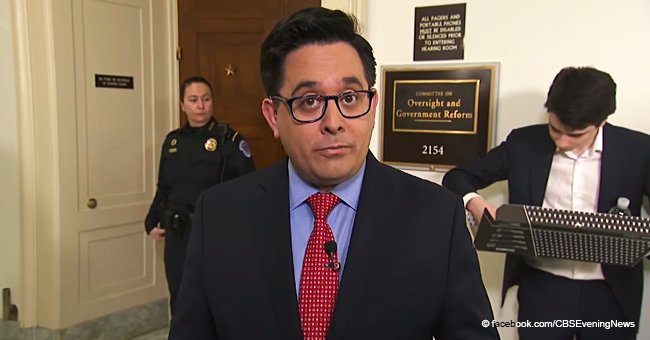 Guy Becomes a Star after Getting Caught on CBSN Live While Eating Pizza at Cohen's Hearing
This guy became famous overnight for eating pizza in the hallway. Just like most people at the Cohen hearing, this young man seems to be tired and hungry. What he didn't know was how popular he was about to get for this singular random act.
A video made by CBSN Live of their presenter Ed O'Keefe who was covering the Michael Cohen's testimony at Capitol Hill has now gone viral. The reason for this wasn't Ed's amazing presenting skills but rather the appearance of a young man who is famously termed the "hallway pizza guy."
This overnight new celebrity was hungry and apparently couldn't help himself anymore. The video showed the dude receiving the pizza which was gotten from "chain &pizza" from another guy who was entering the courtroom. Upon receiving the box, moved to a comfortable space, opened the carton and delved into the pizza.
With no care in the world, the hallway pizza guy gladly chewed his food. After a while, he even leaned forward to collect water from a friend who indulged him by handing out one.
Moments after he realizes that he's been directly behind O'Keefe which meant now on camera, at that instant, he had the cutest look on his face. It was a funny and at the same time a priceless moment.
After this, the guy slowly moves out of the camera. The media has gone wild talking about this mysterious dude who was so hungry, all he cared about was having his pizza. Some have even termed him a hero, and the clip that was about Cohen's case is now solely about the hallway pizza guy.
On Wednesday, Michael Cohen testified in court after pleading guilty to fraud and campaign finance violations. The now-disbarred lawyer however pointed fingers at President, Donald Trump and even called him a racist.
"He once asked me if I could name a country run by a black person that wasn't a 's***hole,'" said Cohen. "This was when Barack Obama was president of the United States. While we were once driving through a struggling neighborhood in Chicago, he commented that only black people could live that way."
Trump has since replied that Cohen would say anything to cut a deal, even if that means dragging him in the mud.
The pizza outlet, "chain &pizza' has since commercialized on the current situation. The company made a gif of the mysterious man and posted it on their Twitter page. They also had been selling the exact type of pizza he ordered which they named the "hallway pizza."
Please fill in your e-mail so we can share with you our top stories!