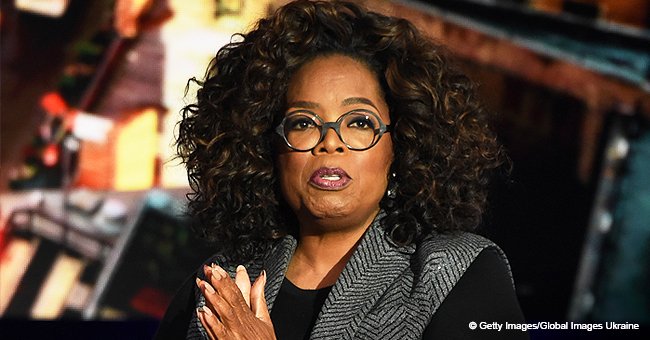 'This Movie Transcends Michael Jackson,' Oprah Winfrey Interviews MJ's Accusers
Oprah Winfrey interviewed two accusers of Michael Jackson in the documentary "Leaving Neverland" who claim the singer molested them. The controversial sit down comes nearly 26 years after the media mogul gushed about Jackson's honesty after a one-on-one with him.
Oprah Winfrey treaded dangerous waters when she interviewed Michael Jackson's two accusers in the controversial new documentary "Leaving Neverland" for the ET special, "Oprah Winfrey Presents: After Neverland."
The talk show host who herself was a victim of sexual abuse as a child admitted that by talking to Wade Robson and James Safechuck, who claim they were molested by Jackson when they were young boys, she'd be courting a wave of hate her way.
"I'm gonna get it," she predicts during the pre-taped interview at the New York Times Center.
However, she insists that the two-part documentary was "bigger than any one person" and that it "transcends Michael Jackson," a case she makes to justify why she was entertaining Robson and Safechuck's stories today. She adds,
"This is a moment in time that allows us to see this societal corruption. It's like a scourge on humanity and it's happening right now."
At one point, she also says,
"Beware of people who just want to be around your children."
DISCUSSING THE NATURE OF THE TWO MEN'S RELATIONSHIP WITH JACKSON AS BOYS
In the four-hour documentary directed by Dan Reed who also joined the two men on stage with Winfrey, Robson and Safechuck detailed their childhood experiences being groomed by Jackson as they blindly surrendered to his wishes. When asked by Winfrey why they continued to associate themselves with the pop icon in spite of the molestation, Robson replied,
"I had no understanding of being abused. I loved Michael."
Robson proved that love when he denied claims that he was abused by Jackson and testified in his defense in a 2005 child molestation trial. This resulted in the singer's acquittal. Likewise, Safechuck testified in a 1993 trial that he was never molested by Jackson. However, he begged off from testifying in 2005.
It was only in 2013, four years after Jackson's death in 2009 when the two men went public with their story and finally admitted they were victims of Jackson's sexual abuse. They defended their delayed pronouncements saying they were threatened by the hitmaker that their lives would be ruined if they spoke up against him. Robson revealed to Winfrey that he believed Jackson then when he told them "it was love" and "God brought us together." He added,
"…all the times that I testified and the many, many times that I gushed over him publicly in interviews over wherever it may be, that was from a real place, while never forgetting any of the sexual details that happened between us, but having no understanding that it was abuse, and having no concept in my mind that anything about Michael could ever be bad. Anything that Michael did was right, to me, for so many years."
BEHIND CLOSED DOORS
While the stories about Jackson's questionable affinity with boys were contested by many including his family, Reed notes that there's one fact that was never objected to or denied – that Jackson had sleepovers with these boys in his home. "It is what happened when the bedroom door closed and the lights went out," according to the director, that was essentially the issue in the film.
Winfrey wondered why a celebrity in Jackson's stature who's hardly ever alone would be able to hide something as big as this and that no one else knew what was going on. Robson himself admitted, "It was very rare that Michael was alone."
WHEN OPRAH GUSHED ABOUT MICHAEL
Winfrey's interview with Jackson in 1993 would probably explain why boys were drawn to him and why people never doubted him. She admitted after that interview that the singer was "very likable." She also said that she felt like he could be her friend, "because I felt that he was really honest." Today that honesty is questioned by Winfrey herself after her latest interview with Robson and Safechuck.
JACKSON'S FAMILY COMES TO HIS DEFENSE
Meanwhile, Jackson's family has slammed "Leaving Neverland" for painting lies about the King of Pop. Siblings Tito, Marlon, and Jackie Jackson, along with nephew Taj spoke to Winfrey's BFF Gayle King on "CBS This Morning" and accused Robson and Safechuck of exploiting their story for money. They also insisted Jackson was innocent and was "never inappropriate" with boys and that there's no evidence that proves otherwise.
THE FILM'S IMPACT ON ROBSON AND SAFECHUCK
In response, Reed revealed to Winfrey that Robson and Safechuck were not compensated for telling their story in the documentary. If anything, the film has been more harmful to them after receiving death threats from fans who are loyal to the late singer. Robson admitted that the trauma of his ordeal with Jackson has led him to suffer two nervous breakdowns while Safechuck underwent insomnia and depression. They found comfort during their interview with Winfrey when they were warmly received by the audience which included sexual abuse victims Anthony Edwards of "ER" fame and Philadelphia Eagles linebacker Al Chesley.
Please fill in your e-mail so we can share with you our top stories!