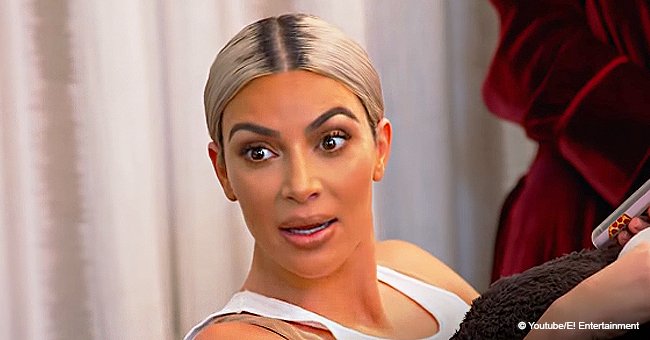 'She's so Angry,' Kim Kardashian Reportedly 'Livid' over Latest Tristan Thompson Cheating Scandal

Kim Kardashian-West is furious over the recent Jordyn Woods-Tristan Thompson scandal, especially since she's always been untrusting of her sister's baby daddy.
The whole Kardashian-Jenner family was shaken by the recent Jordyn-Tristan scandal, especially since both of them are connected to their family very deeply. While all of them are upset over the whole ordeal, it's Kim who's allegedly really upset.
"Kim is the one who is really upset about this. She's livid. She's so angry, and she's 100 percent on Khloé's side. She's there for Khloé, letting her vent and talk about it. They've been in constant contact, and Kim is totally supportive. Guys may come and go, but the bond between the girls is never going away, and they're committed to supporting each other."
The reality TV star unfollowed Thompson and Woods on Instagram, immediately taking her sister and her best friend Malika Haqq on a getaway to Palm Springs.
While Khloe impulsively blamed the 21-year-old Woods for ruining her family, she took it back and placed the blame solely on Thompson, something that her sister Kim agrees with.
"Kim is putting the blame squarely where it belongs, on Tristan. She is telling Khloé to move on and to focus on being the best mother she can be to True. But Kim isn't going to talk about this much publicly. This isn't her battle to fight in the public eye. But behind the scenes, she's definitely making her opinion known."
Jordyn Woods was recently on Jada Pinkett-Smith's "Red Table Talk," where she openly denied her alleged hook-up with Tristan Thompson. According to her, it was a huge misunderstanding and that there wasn't a hook-up between the both of them.
She further explained saying it was an innocent kiss with no tongue involved. Woods also said that she told Khloe she was at a party in his house but left out the detail that he kissed her on the lips so that she didn't get hurt. She also tried to clarify that the lap dance never took place.
Woods said that all she did that night, was sit on the arm of his chair and laid her legs over his. Other than that, she claimed there was no physical contact until she left the house the following morning at 7:00 am. Unfortunately for her, Thompson walked her out and kissed her on the lips. It was that kiss that she claimed was inappropriate.
Jordyn also said she spoke to Kylie about what happened, and told her that she'd also be on "Red Table Talk."
While Khloe seems to be trying her best to move on from the whole ordeal, Jordyn and Tristan continue to try and clear their names. With so many sides to this story, one will never truly know the truth for as long as they keep airing out different sides to the story. The truth may not be revealed so easily and quickly in this case.
Please fill in your e-mail so we can share with you our top stories!